Christmas 2010
it all started back in 2009 when we were at Opus II in Warren Ohio. We met Stan and Michele Franowsky who had their 1937 Packard Twelve parked next to our Lazarus in the tent.
Over the next year our friendship continued, since we had bonded so well during the Packard event. Stan and Michele graciously invited us to spend Christmas with them. First, we were intending to spend just a couple of days, but then they said why don't extend and stay for the new year...there is just SO MUCH to see. We thought that sounded like a neat idea and we made arrangements to drive to their home outside Albuquerque New Mexico for Christmas.
We drove out I-10 and stayed the first night in Ozona Texas, which, reportedly, had more millionaires per capita than any other municipality in the country. Tthe town sits on an oilfield and there are wells in the schoolyards, in the parks, so the city shares the wealth with the community.
The next day we continued on and we stopped in Roswell New Mexico which is famous as the supposed landing site of aliens back in the late 40s... kind of kooky hype... but I'm sure it draws a lot of money to the town through tourism.
The next day we arrived at Stan and Michele's house up on the hillside outside of town of Tijeras.
Stan and Michelle have a modern house with a great view of the mountains around and slightly uphill they have a shop which is really first class and includes Stan's office.
Besides the 1937 Packard Twelve Dietrich touring car they have a 1939 Packard Twelve Formal Sedan that is in excellent original condition.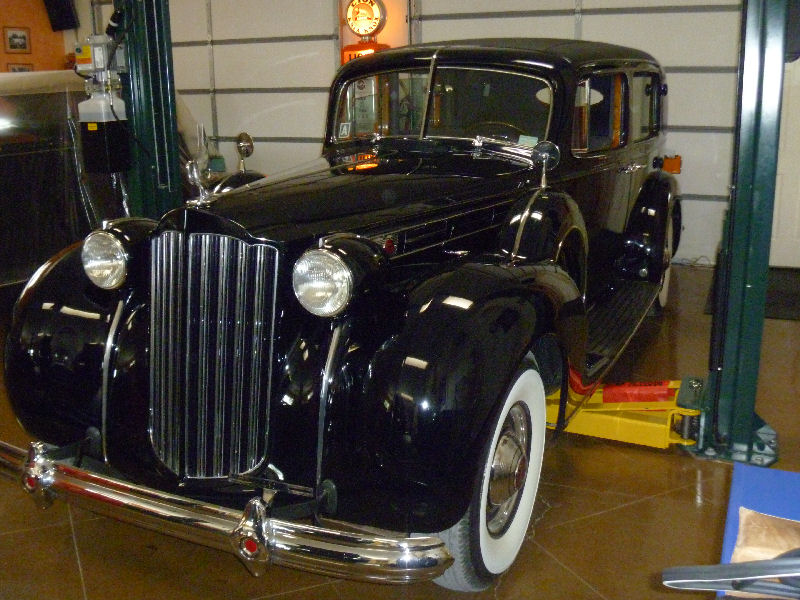 They have a 1938 Packard Twelve Brunn Cabriolet, which Stan is restoring. Also in their collection are a 1932 Pierce Arrow roadster, a 1947 Buick station wagon in excellent original condition, and a 1939 Buick Coupe which they use for touring.
Their house is filled with lots of antiques...a Victrola which they played for us, and many antiques from the New Mexico area, which had been in Michele's family for many generations
Stan took us for a ride in in the Buick station wagon, and after going a couple of miles he pulled over and let me drive. It was really a fun car to drive and one that would not be hard to add to our collection... really beautiful original car.
On Christmas day Stan's brother Frank and his wife Brenda came over for dinner. They're really great folks. Frank is a collector of old Everready battery operated candles which are really neat. When you pick it up, it lights, because the switch is spring-loaded on the bottom.
I can't remember if it was the next day after Christmas or the following day when the four of us loaded our suitcases into their pickup truck and headed North. First stop was at the town of Cimaron,NM. This is an old western town, off the beaten track, with a hotel, the St. James,that dates back to the late 1800s.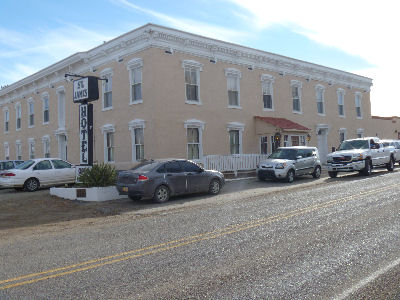 Each room is uniquely decorated in the old style and has a placque with some person of notoriety who had slept in that room back in the 1870s. The room we were in had been occupied by Jesse James. Other rooms were labeled Bat Masterson, Buffalo Bill, Zane Grey,
We continued on the back roads , pulling off into other little settlements that tourists never get to see, but since it was more or less in Stan and Michele's stomping grounds, they knew about these really colorful towns and they shared them with us.
We drove to Colorado and immediately went to Colorado Springs to stay at the Broadmoor hotel, a five-star establishment where Michele's parents had spent their honeymoon many years ago. We had a great room overlooking the pond.
On December 30 we attempted to drive up Pikes Peak. Unfortunately, a blizzard was coming to the area. When we got to the gift shop (I think about 8/10 of the way up) the Park Ranger radioed the clerk to get everyone off the mountain... snow was really coming down heavy and we were the last people to get off the mountain in 2010.
. On the way up, we saw a family packing snow into a cooler on their pickup truck. I noticed it had Texas license plates so I couldn't avoid asking where in Texas they lived. Seems that they come from Spring,TX, which is about 35 miles from home.
After we came down the mountain, we stopped at an antique mall and enjoyed perusing all the stuff that they had. We bought a buffalo horn for Gail to play with...to simulate pre-hearing-aid days.... The snow was really coming down fiercely, and it took us two hours to get back to the hotel....when it should have been a 20 minute ride. ...
We extended our stay at the Broadmoor because we were really snowed in...so we had a GREAT NEW YEARS EVE celebration.
(the white dot you see on Gail, is the resident ghost....)
.0
Because of the snowstorm we were stranded at the Broadmoor for an extra day.
We had to switch rooms but it was a great opportunity to stay in this 'winter wonderland' with friends that we were really enjoying. Finally we had to leave and head back to New Mexico.
The last night on the trip we spent in the town of Las Vegas, New Mexico. It is very unique because, at one point, it was the end of the railroad. Everyone has heard of the Santa Fe Trail which came to this town. It brought people from all parts of the East, so there are styles from all parts of the East. Stan and I had a lot of fun laying down the tracks, outside the rail station. Hey...Everybody has to be goofy SOMETIME!!!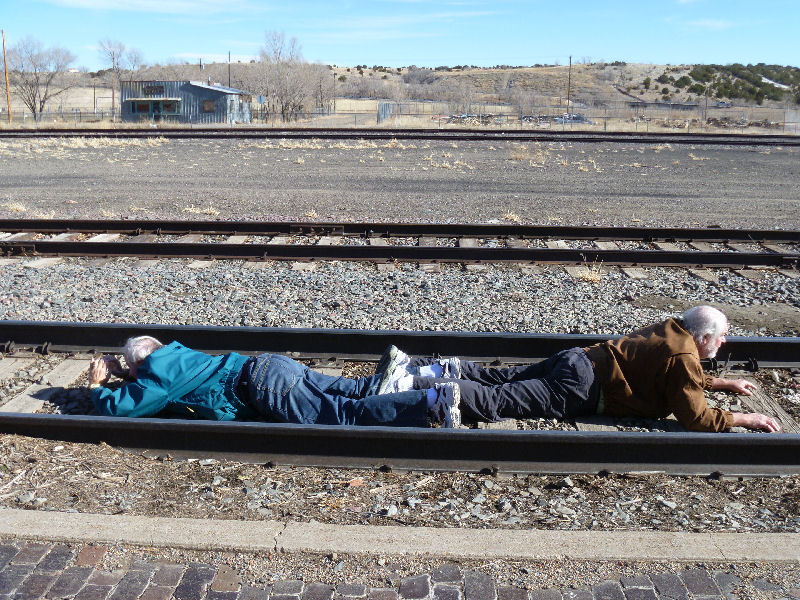 We spent a couple more days with our great friends and then headed for home. We decided that we would return via Fort Worth and visit Aunt Josephine (.....Dad Michaliga's sister).
Fortunately, we had a safe trip, and look forward to visiting with Stan and Michele again....