English Vacation…May 2008
Well, to 'begin at the beginning' I have to say that when Gail and I were in England in November 2006 we saw the canal boats and figured it would be a fun vacation.
Gail and I flew Continental from Houston to Manchester, England . The FIRST time we have been able to use Frequent Flyer miles. Even though we booked through Continental, we were flown on Air France to Paris and then to Manchester. We were pleased to find that Air France provided free drinks on the whole flight....(and, of course, stainless steel knives and forks for dinner!)
DC and Patti flew United/British Midlands from Austin to Chicago to Manchester.
We met Dave and Patti at ManchesterAirport, where they had a nightmare 6-hour wait for us. The taxi we had scheduled,picked us up and took us to the Best Western hotel in Nantwich. THIS Best Western was called The Crown, and had been built in 1583. Yes, the beams and floors sagged all over.
(If you click on the thumbnail pics like this, you will get a larger view.)
Yes, the walls are very crooked.
In the evening we decided to go on a pub crawl, but managed to only hit two pubs. One was the Boot and Shoe, which had been built in 1200s, rebuilt in 1470, survived the town fire of 1583.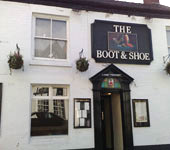 We didn't get far because we inevitably started talking with the locals to soak in the ambiance of the place. One chap told us that our forthcoming canal trip would take us by his boyhood home…a large 'Black and White" on a farm with a pond.
This is a picture of the chaps house.

(The old half-timbered houses of the 16th century era are considered a National Treasure and restoration is closely controlled by the government. The timbers are always painted black and the area between the timbers is a weave of sticks covered with a mud/straw , called 'waddle and daub' and painted white.)
On Saturday, May 3, 2008 Peter Townsend of Empress Holidays picked us up at the hotel and took us to the boat, the Kirsty, which is 7' wide and 54' long. After a short tour of the boat and a demonstration of managing the canal lock system, we set out for our 2 weeks on the canal , first heading for LLangollen, Wales. (that's pronounced Lan-gof-len).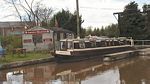 We must have negotiated about 40 canal locks. Normally two people will get off the boat, walk ahead carrying a crank to crank up paddles which allows the water to flow into or out of the lock, and then push the massive gates (with their butt.)
to open of close the lock. Below are a few pics of the process which shows our first day going through 4 consecutive locks. Notice in the second picture, the 'Lock lady' who spends her vacation working the locks to help the boaters.
..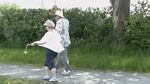 ..
..
Our first night we stopped in Wrenbury and had dinner at the Cotton Arms,
http://www.cottonarms.co.uk/
Sunday, May 4 we encountered some intermittent drizzle, so we were glad we brought some rain gear. Most enjoyable relaxing ride through the canal.
Biggest excitement was going through the Grindley Brook lock staircase… a series of 3 locks

That night we walked ½ mile to the Horse and Jockey pub for dinner.
Monday May 5 we started our day with sunshine Saw lots of ducklings….no locks today….just a couple lift bridges. Stopped in Ellesmere for the night.
Watched two episodes of Captain Marvel, which I had brought.
..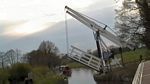 ..
Most of the time, we just had a relaxing cruise through breath-taking scenery.
Here we see the bank lined with private boats. Many have little yards alongside their boat.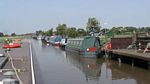 Tuesday May 6
Stopped after the long tunnel and walked half way to the Chirk castle when a woman driving by, stopped to inform us that the castle was closed on Monday and Tuesday.
Watched two episodes of Hopalong Cassidy.

Wednesday, May 7
We started cruising and got to the great PONTCYSYLITE aqueduct .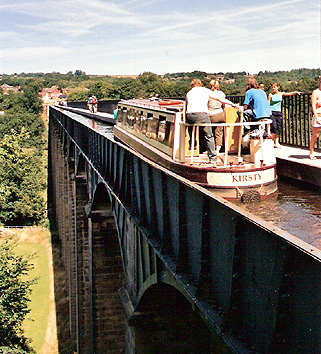 I stayed on the aqueduct while DC took the boat, turned around and came back….so we made 3 trips across this morning.
VERY UNUSUAL...MOST people just make ONE crossing, but traffic was non-existent, so we capitalized on the beautiful day.
This is a cast iron bridge that was completed in 1805.

The last pic is kinda neat...it shows the shadow of the boat going across the field of dandelions 126' below.
DC is at the helm and the girls are sitting up front.

In the afternoon, we walked up to the Chirk castle through the sheep pastures.
Castle was built around 12th century, but updated it through the years to be more like a palace than a castle. The most interesting feature was the dungeon. How shocked we were to watch the History Channel 3 weeks later to see the program Castles and Dungeons feature the Chirk dungeon!...showing the very steps I walked down! Unfortunately it was too dark to take a picture...
Of Course, every castle has a potty, rustic though it may be.....
Saturday May 10
On the previous week, as we went up the canal, Gail had seen a notice in the canal house window, advertising the Marbury Festival on May 10,11. She neglected to tell me that there was slated to be a classic car show at the festival.
So on the way back, we stopped at Marbury and walked the ½ mile into the village to have dinner at the Swan Hotel.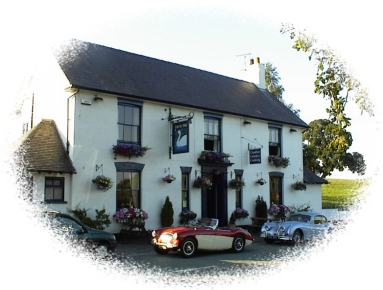 In the barn next to the hotel, the owner offered 18 flavors of local beer.

..
.

We met Malcom, a local, who helped get us a meal even though the dining room was fully booked.
He also gave us a geranium to decorate out boat.

When we asked for a container to take the rest of our dinner to the boat, they graciously obliged.
with a fabricated foil swan!!!!
It seems that this weekend was the annual Marbury Merry Festival.
In the morning we attended the Anglican Church Service in the 11th Century church. The tower leans about 25 inches in 64'


In the afternoon we went to the village festival where Terry Large, the Falconer was demonstrating the ancient art of hunting with falcons and hawks. Twice I enjoyed the privilege of having a Harris Hawk fly onto my arm to get a morsel of food….and then stare at me for 30 seconds before it flew to another participant.
We got to chat with Terry quite awhile and, finding that we were heading to Chester, he graciously volunteered meet us and show us the city….more about that later…
Oh, also….Terry told us that he will be demonstrating falconry in Amarillo, Texas Thanksgiving weekend!

Here DC is holding a European Eagle owl.
.
Here is a picture of a barn owl chick
.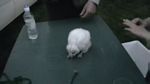 We even got to watch the Newtown (Wales) marching band...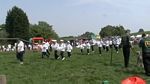 Really great festival….
one man had a little boat driven by a steam engine.
…about 20 antique british cars and one American WW II jeep.
…collection of antique tractors
…little steam powered train
…collection of old 'one lunger engines
…blacksmith
…trained dogs running through fire hoops
…tractor using large belt to operate a thresher and baler processing barley

…model float airplanes taking off and landing on the lake
…book and plant sellers
….wood sculptor fashioned a swan out of a stump
…Patti got to watch a 'Jeanne' spin wool
Monday May 12,
Walked up to the Wild Boar Hotel for a glass of wine on the lawn and dinner in the dining room. Gail and I had spent the night here back in November 2006.

Tuesday, May 13
While walking from the boat to the Cheshire Cat pub, Gail was overjoyed to find a 4 leaf clover along the walk …THE FIRST OF HER LIFE. That night pressed it in a book for her.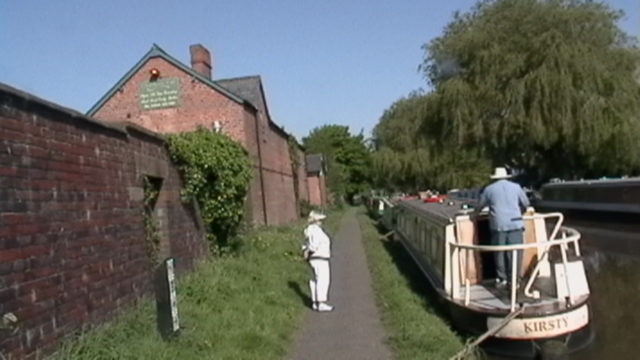 RIGHT THERE at the stern of the boat is where Gail found her lucky 4-leaf clover!
Our two little girls had fun blowing bubbles on the front of the boat....
Wednesday May 14,
Terry picked us up at the Cheshire Cat pub on the canal. He gave us a 4 hour guided tour of the highlights of Chester…
…Downtown Chester with half-timbered buildings dating back to 1502

….walked on the old Roman city wall, built 2000 years ago.

….toured the magnificent Cathedral with choir stalls that are 800 years old and saw a copy of Handel's Messiah with Handel's notations. The Messiah was FIRST PERFORMED in this Cathedral.
.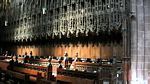 ..
..
..
… Stopped for a break at Terry's ex-wife's optician business, where her family had been in the same location, same business since 1815.
Thursday May 15,
Leisurely day on the canal…. Saw ducks and ducklings…geese and goslings…swans and signets…
Saturday May 17
Sad day….we had to turn in the boat after 2 glorious weeks.
Taxi took us up to the Manchester airport where we checked out our Avis car… a VW Passat diesel 'estate'.
Using the laptop with gps, we headed east toward the town of Holmfirth, where the sitcom, 'Last of the Summer wine' has been filmed for the last 40 years.
..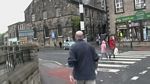 There was a bit of a drizzle but finally cleared up. I got to knock on the blue door of Nora Batty's house and we went into the famous Café, also taking pics with the statue of Compo outside.
.
..
...

From now on, watching the old shows will have a totally different relevance.
Next we headed for Scotland, since Gail, Patti and DC had never been there.
Monday May 19
After having driven along the west coast, we headed for Stirling Castle, which we heard was not a modern palace but more the early fortress style castle.
That boulder in the background is the core of an extict volcano.

...

At Stirling, we arrived at the beginning of a tour given by a very animated Scot. It was a most enjoyable tour, especially seeing the recently restored Great Hall and watching weavers reproducing a tapestry, the original of which hangs in the Metropolitan Museum in NYC.
…Again a glorious day of sunshine…
Tuesday May 20.
Dismayed that the Johnny Walker distillery would was not giving tour, we headed South to the Glen Goyne distillery. There we had a great tour and enjoyed several samples while we picked up a few trinkets in their gift shop
After crossing back into England, we spent the night in Carlisle.
At 10:55 pm I asked Gail if she would marry me.
She hesitated and asked if I was serious. I said YES. Gail waited a nanosecond and ACCEPTED!!!!!
Patti grabbed the camera and made me repeat on video.
P.S…Still wondering if it was the 4-leaf clover wish that affected me??!!??...or the GlenGoyne???
P.P.S. Gail now has a sparkler on her left hand...
Wednesday May 21
Sunny but breezy day as we continued on our journey to see Hadrian's Wall. We stopped at three locations to see remnants, but the most interesting was at Vindolanda
http://www.vindolanda.com/
where we were able to talk to a group of archeologists who described what they were doing and showed us the tray of glass and pottery shards that they had found that day.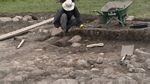 ..
.
.
Our vacation was drawing to a close, so we were heading back toward Manchester, but still wanted to see more 'interesting sites of England'.
We set out for Blubberhouses via the 'shortest route' on GPS. We ended up traveling over miles and miles of one lane roads. At one point I saw a ring neck pheasant and stopped and got to get a photo.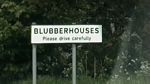 We continued on and ended up traveling over the mountain on the one lane road.
Continuing on, we found a golf ball breeding ground....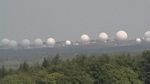 After we got home, I was talking to a neighbor who retired from the Air Force. She knew all about it; said that it is a US Air Force Communications Center.
DC had to get out about 5 times to open gates to continue on the road.
..
Several times we had sheep in the middle of the road, and one time we got a photo of a grouse. We saw hundreds of rabbits.
Blubberhouses turned out to be a very small community with a little church and a pub. Of course we had to have a beer and find out the origin of the name. It seems that many years ago, there was some sort of factory in the village and when the parents went to work, all the children would BLUBBER…..at least that's the story we got.
The pub had been expanded a couple hundred years ago, and so now the dining room has the old roman well in the corner.
That night we stayed outside the town of Barnard Castle, which looked really neat. The castle is a ruin…had been built about 1080 and used for a couple hundred years and then fell into ruin.
The hotel , the Jersey Farm, was ultra modern in red white and black decor, and, we found out, owned by the chap who was the 2007 champion of the British version of NASCAR.
After having a crystal pig collection for several years, this was Gail's first time for
'Up close and Personal'
Thursday May 23
OUR LAST DAY OF VACATION…….
We drove to the nearby town of Richmond. Of course we had to 'check it out'!...especially the castle ruin.
This was a real treat because now we would get to tour a ruin.
As you recall, the first castle, the Chirk, was really a little palace castle, second was Stirling, a real 17th century fortification, and now we were at an 11th century fortification ruin. In fact, one of the walls is known to be the oldest Norman wall in Britain, having been built in 1070. The 100' castle gate tower was built around 1200 and still exists in great condition. DC and I climbed the 100 steps to the top of the Gate-Tower you see in the background through the arch.
.
This is a model of what the castle looked like in its 'heyday'
.
.
..
.
That's DC and Me up in the tower.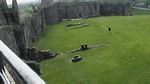 This is the view looking down at Gail and Patti from the top of the tower. On the left is the old Norman wall.
That night we stayed in the Manchester airport Hilton because our flight home was to depart at 8am.
Our return flight was from Manchester to Amsterdam on KLM and then Continental to Houston.
DC and Patti flew from Amsterdam to Austin, via Chicago.
On June 4, there was an article in the paper that one of the runways at Amsterdam Schiphol was closed because a construction crew found a live 500 pound WW II bomb buried close to the runway.
Hmmmm I wonder if we landed or took off on THAT runway????!!!
Anyway…those of you who have floundered through this diary, I hope some of it was entertaining and might even spur you on to a similar type vacation. There is an incredible amount to see in England, Wales and Scotland, that is NOT in London… and we have been told that the greatest fortification castles are really in Wales.
Oh yes…I forgot to mention…there are 2000 miles of canals in Britain that were built in the 18th century….and there are 28,000 boats on those canals. We were there at a perfect time when traffic was low. We are told that during the summer when schools are out and families flock to the canals, you can expect 4-6 hour waits to get through the locks.
The weather???? We were told that England is cold and rainy in May.
We brought rain gear, multiple sweat shirts and jeans for insurance, but I had a little talk with my Guardian Angel and he assured me that I could bring along Texas weather. Except for 2 days of partial drizzle, we had partly cloudy skies and low 70s…basically very comfortable weather most days.
If you go back through the story, and notice the pictures....you will see lots of shadows and sunshine....and not much in the way of sweatshirts and rain gear.
Thanks for reading this story….
Bob, Gail, DC and Patti….
P.S. We have 5 1/2 hours of video from the trip. Still shots really don't capture the essence.