England trip....2017....Lancaster Canal
On August 19 we flew United 880 to London Heathrow. It was a disappointing flight after last year's great experience on a Dreamliner. Food and service was below par, but most disappointing was the fact that United has deleted all music from its entertainment system. I don't know who made that dumb decision.
Again we checked into the Crowne Plaza and rekindled our friendship with many of the staff.
This must be a great place towork because several of them have been there 18, 30, and 41 years. Sam, the head chef, invited us to her house on Wednesday afternoon to tea. We had a most delightful time having a personal visit.
When we are at the hotel, we spend most evenings relaxing in the Club which is available to IHG Rewards Program participants.
On Tuesday we got our Avis car. We had reserved a Mercedes sedan because it was guaranteed to be an automatic transmission. It is surprising that the majority of cars in England are manual transmission. Of course I can drive manual, but with my foot problems, driving in traffic can be very taxiing. As it turned out, driving to Lancaster on Thursday we were caught in a 4 hour traffic jam behind a major accident on the motorway.
On Wednesday, the 23rd, we drove down to West Hoathly,South of London, to visit a Rolls Royce/Packard restoration shop. I had first visited the shop on my first trip to England around 1980. Gail and I had visited in 2006 when the son was now running the shop . Now the two grandsons are running the business. One of their prize Packards is a 1936 Packard Twelve LeBaron All-Weather Cabriolet that was used in the 1974 movie, 'Murder on the Orient Express'. The opening scene shows the Packard being run off the road into the ditch.
Here's a pic of their 1929 and 1934 Packards.
The Packard on the left is a 1929 boat-tail speedster with a custom body by Derham.
Derham was a custom body builder in Rosemont, PA....next door to Villanova. I probably drove by it 100 times when I was attending Villanova back in 1963.
When we drove to Lancaster on Friday, there had been a major accident on the M6 throughway. What should have taken 4.5 hours took 8. Cars were overheating. Even one chap in 1949 Alvis was having problems getting to a weekend show.
Saturday Aug 26
Then we drove on several back roads to the marina where the Duck Island boat company is located.
We met Elaine and Eamonn and toured the boat, the Piccolo. It is a 5-star 9'x42' that they had built for themselves. Here are a few pics before we loaded our stuff.
Sunday Aug 27
One of the enjoyments of cruising up the canal is the sights of nature.
At one point we saw a cormorant drying its wings...
and a little while later, an alpaca family in the pasture.
Monday Aug 28
Along the canal, we see all variety of boats....
Many with imaginative names....
Carpe Diem (Latin for Sieze the Day!....or....Make hay while the sun shines!)
We had seen Carpe Diem, which lists its location as Nantwich, on our first trip in 2008 on the Llangollen Canal.
Tuesday Aug 29
Most of the canal is very serene.
To give you an idea of how fast we go, click on this link (but wait a few seconds to let this 15 second video load.)
People walk faster than we cruise.
Wednesday Aug 30
As we sat in the Piccolo, surrounded by 'fun water', we watched on television news video of the devastating water from hurricane Harvey. The flooding came within 7 miles of our hangar at Covey Trails. We had intermittent contact with our neighbors, who assured us that the water was all around the hangar but did not get inside.
Thursday August 31
Some people in the towns like grassy back yards....
Some people don't want to cut grass......
But most of the way the canal is out in the countryside where one can enjoy the cows and the bridges.
Friday Sept 1
Another partlly sunny day...When we arrived at the city of Lancaster, we moored at the Water Witch pub. In it's early days it was a stable for the mules that towed the barges on the canal. We decided to spend a couple days at this location because it was right on the edge of the city center.
Of course we opted for dinner in the pub. I chose the gammon which is the British name for a ham steak. It is usually served with a slice of Tomato and an fried egg with 'chips'...which they stack like cord wood.
Gail opted for the traditional 'Fish & Chips' with mushy peas.
The next day we took a walk into city center and found all the shops.
Gail and I found the Post Office, we bought caps in Mark & Spencer department store and shoes in Clark's and then bought ice cream cones.
Sunday Sept 3
We cruised to Carnforth which is at the top of the canal. Docked in front of the Canal Turn.
We intended to have dinner in the pub, but found they had stopped serving at 5pm. We did not know how far it was to any of the other pubs in Carnforth, so we just ate in the Picollo .
Monday Sept 4
At 10:40 I shoved off. Only about 5 minutes of sunshine. When I got to the swing bridge, I pushed it and it only opened half way,, but I managed to get through. This bridge serves only one old estate. It is perfectly balanced and rotates on a pivot.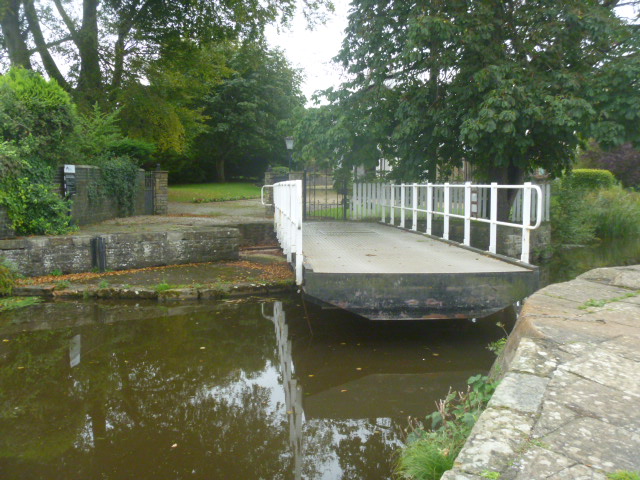 We again arrived at the Water Witch at 3:40 after 5 hours of cruising. Really tired when we stopped. You just cannot take your hand off the tiller for more than 5 seconds, or the boat will veer off to the side.
Went into the pub but it was very warm so we sat outside with beer, wine and olives and cheese/garlic bread. It started to drizzle so we got into the Picollo.. Ordered Ceasar Salad and Pie of the Day. All evening it rained moderately.
Tuesday Sept 5
Wednesday, Sept 6
Another cloudy raw day. I walked into Lancaster to get a newspaper. Clerk said they have not had any summer.
Went into the Water Witch for dinner and had grilled duck breast and Gail had a cod burger.
Thursday, Sept 7.
Drizzle in the morning, but at 11:45 we departed the Water Witch and headed South for Galgate. I had put on the rain suit and had the umbrella handy.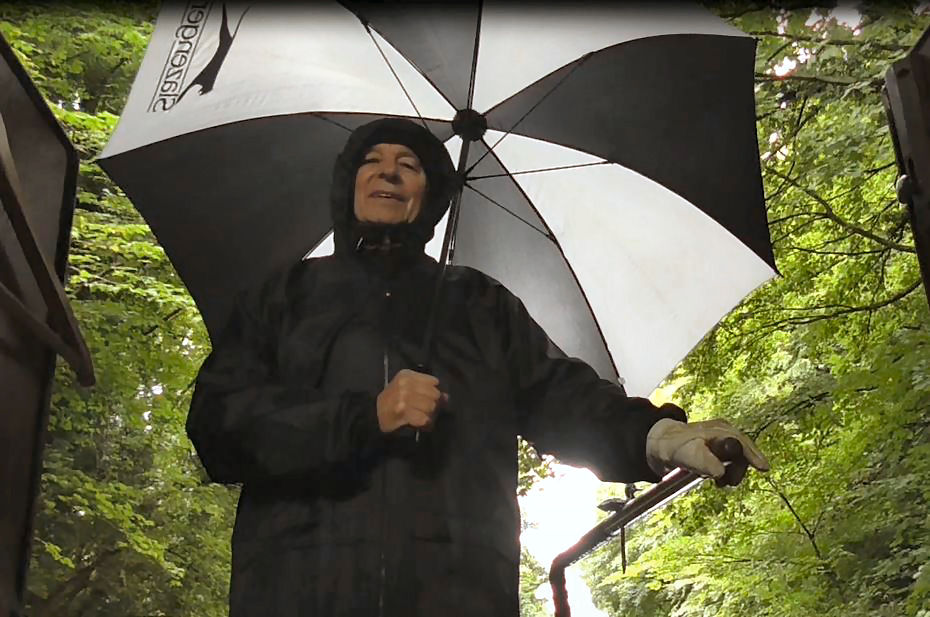 It was 4 miles of upstream and headwinds and just as we were approaching Galgate, the rain started coming down.
I managed to moor across from the marina, relatively close to the pub, the Plough Inn...just in case the weather cleared so we could go for dinner.
The frustrating thing is that all the way down the canal, we had good tv reception, but when we moored, we were in a dead spot.
We were hoping to monitor the hurricanes, Irma, Jose, and Katia which were out in the Atlantic.
On Sept 9 we reluctantly turned in the Piccolo and headed south to Malpass.

Back in April we sent an email to our old acquaintance, Terry Large, the Chief Falconer of the UK who we had met on our first canal vacation in 2008.
It was great to meet Terry and Cyndy again.
and their daughter, Sophie....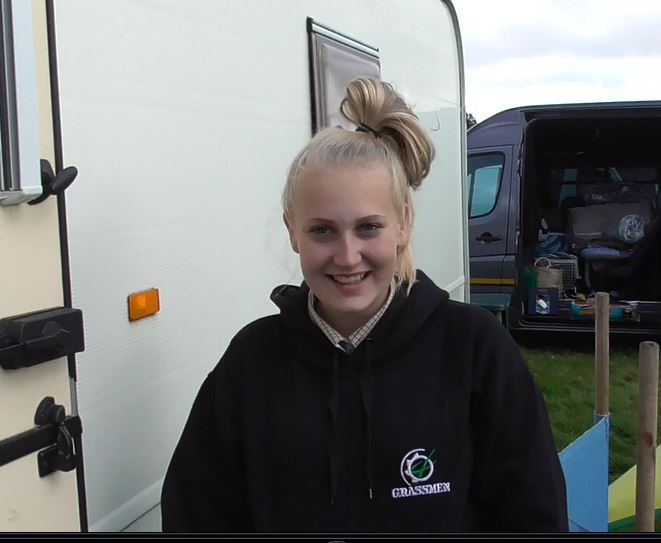 Terry took us on a personal tour of the festival and introduced us to 'his mates', one of whom was making beautiful wood flowers by shaving a stick.
It just so happed that Terry was performing with his birds at the Malpass Festival of Steam....most everything run by steam.. antique farm tractors, trucks, stationery engines and even an 1892 carrousel.
There was a large display of British and American military vehicles and equiptment.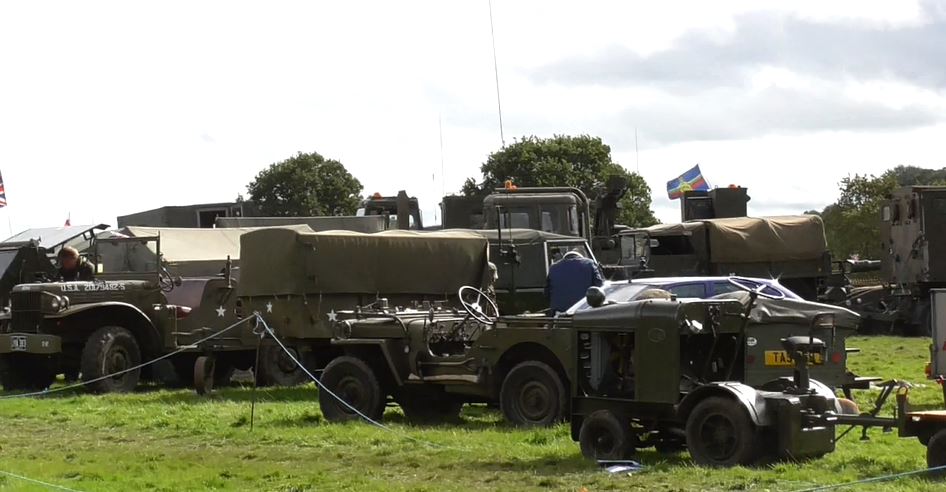 We even met the carnival bell ringer and learned the tricks of his trade....how he can allow a weakling to ring the bell, but prevent an egotistical muscleman from accomplishing the same.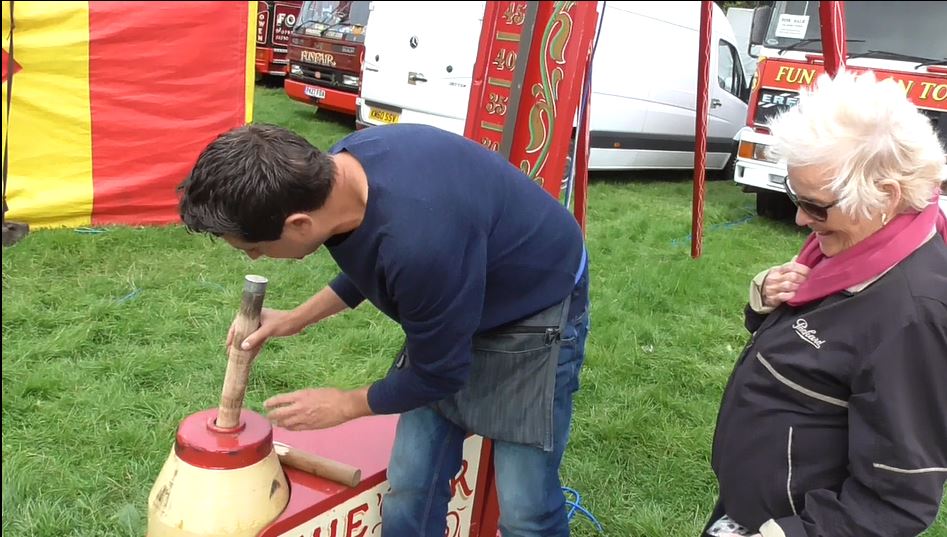 There was also a group of restored gypsy wagons with lots of gold leaf.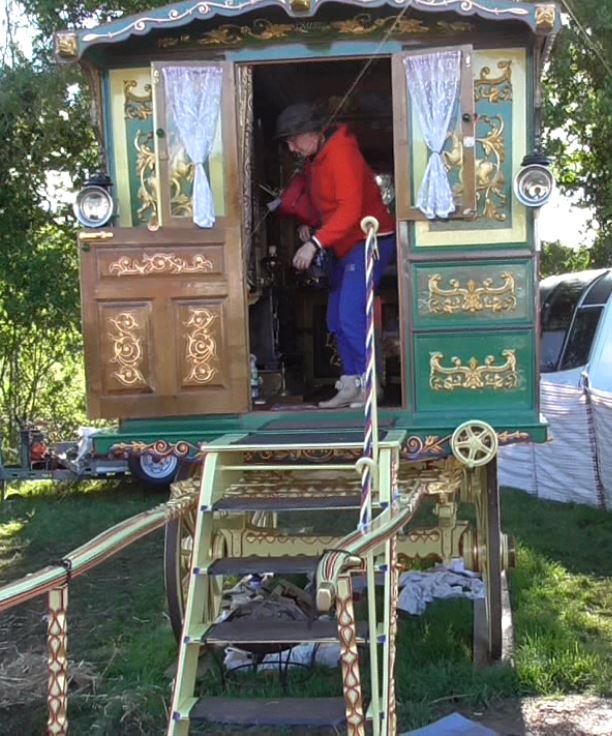 For about an hour we sat in the warmth of the announcer's trailer watching the events.
Then Terry invited us into his camping trailer for tea with his family. For another hour Terry told stories of his giving demonstrations for the Royal Family. At one time, Princess Diana had requested to see his barn owl because Harry was doing a school paper about them.
Here's the barn owl chick back in 2008 and now:
Unfortunately, the festival was cut short by a driving rain. We stayed behind, visiting with Terry, Cyndy and ......
As usual, we were the last ones out of the visitor parking field.
We alwayls return to the Heathrow Crowne Plaza in plenty of time to return the rental car, repack our luggage and catch our breath from another memorable vacation.
Thank you for your attention through this narrative.
Bob and Gail