Europe 2011
On November 22nd, we flew to Zurich by way of Chicago.
The most intriguing part of the flight from Chicago to Zurich, was that a woman with a collie came to the departure gate and with (we believe) bogus papers, convinced the airline folk that the collie was a 'service dog'. The woman and dog were allowed onto the plane and given a place in the last center row of the plane. The dog laid between the seats for the entire 7 hours without a wimper or a potty break.
We had a most enjoyable flight on Swiss Air . After renting a car, we headed south to spend the night in Splugen, Switzerland, where we had stayed during our 2004 trip.
The Inn was an old coach house, Hotel Suretta, and the breadfast room was the stable. You can still see the rings embedded in the walls, where they tied the animals. After an enjoyable breakfast we headed south toward Italy.
Our primary objective of the trip was to visit Venice.
We had great driving weather and by now our GPS was working fine. We discovered the hard way, that i Europe you NEVER program in 'the shortest distance' to the destination. Here in the States the 'shortest distance' takes you over enjoyable backroads and through pleasant country villages, which mostly amount to a few houses, a tavern, a general store, and a gas station. In Europe, the 'shortest distance' takes you through innumerable villages and towns that were never laid out with rectangular blocks, an unbelieveable number of triangles bordered by one lane, one way alleys, with traffic jams 24/7. Needless to say, you do get to see what another part of the world is like...closeup and personal! Unfortunately, the alternative is to program 'fastest way', which invariably puts you on the 'autobahns' with cars and trucks whizzing by at 90 mph.
Yes, we did see miles and miles of Italian vineyards before we arrive at Venice. We parked the car and took a ferry to the Hilton, where we had free reservations through Gail's Hilton Honors. We asked for an upgrade and they graciously gave us a 3 room suite on the top corner of the building.
In the evening we went downstairs and noticed an Executive Lounge area. Since the gate would only open with the room key, and our key did not work, we went back to the desk and Gail 'sweet talked' them into giving us access to the lounge. There was a full bar and hot and cold horderves 24/7, so we capitalized on the availability.
On Saturday evening we were in the lounge and we heard the couple across the aisle speaking fluent English. I could not help but ask them where they called home. Well, right now we are in Milan on business, but I graduated from the University of Houston and used to live in League City...(town next to Friendswood.)
IT certainly is a small world.
It seems that Europeans do not use ice to the extent that Americans do. Many hotels do not even have ice machines available for guests. This Hilton had an ice machine on every second floor, but the first two I found were not working, so I lodged a complaint with management. That evening when we got back to our room, there was a chilled bottle of champagne, two glasses, and a note of apology.
Since the Hilton was not on the main set of connected islands of Venice, we had to take the hotel shuttle across the water to do our 'sight-seeing'. Fortunately we had perfect weather and were able to leisurely stroll about. On Saturday afternoon we splurged and hired a gondolla for a ride around the back canals of the city.
When the gondollier saw me holding my GPS, he assured me that he would not get lost.
Sunday morning we went to Mass in St. Mark's Cathedral.
Overall impressions....Great place to visit ONCE...narrow walkways were very crowded (and it wasn't even the tourist season)...great many Europeans still smoke cigarettes.
Our next intent was to go to the Black Forest of Germany to get a cuckoo clock. We did not want to retrace our steps, so we headed due North toward the Italian Alps. Unfortunately, the Pass that we had intended to take, was closed so we were forced to go farther East. We went over a lower Pass and came to a ski resort area. Most hotels were closed because the winter snows had not yet fallen, but we did find 2 resorts that were open. we stayed at the Taljorgele, which was a very fine 5 Star, complete with a roaming St. Bernard dog.
http://www.taljoergele.it/
One of the interesting aspects of the decor was the fact that there were many very large crucifixes in the dining rooms and halls along with other religious pictures.
To continue on our trek to the Black Forest, we had to drive to Innsbruk, Austria in order to head west.
Since it gets dark rather early in December, we generally stopped around 3pm to find accomodations.
Just so happens that we were in the town of Romanshorn. Because of some event in town, most hotels were booked, but we did manage to get a room in the old hotel across from the railroad station, Hotel Anker. If Taljoergele was memorable for being 'over the top'....this one would be 'under the bottom'!...but still brings laughs.

Romanshorn also had an antique shop ...one of the very few that we ever saw in Europe. I was able to buy an old Swiss Army piston holster for Rob. Also, note in the background of the picture, the houses are red timbered. We had always seen black timbered houses that are typical of England.
The next day we headed toward the Black Forest of Germany, but, unfortunately, we had to go through Zurich....what a mess! We finally got to Germany. unfortunately, the weather had turned to a lot of drizzle.
First we went to Triberg and re-toured the clock shop that we had been in back in 2004. Did not find a clock that we liked, so we checked out clock shops in a couple other towns.

Thinking that we needed to find accommodations for the night, and being 50 miles from France we went to Strasburg. We soon discovered that Strasburg was having their annual Christmas Market Festival and that "there was no room in the INN"....so we went back to the Black Forest...and ended down in Singen at a Holidan Inn Express. Dinner next door was in an Inn that was built back in 1360.
The view out our room window was of the castle ruins sitting on top of an extince volcano core.
Perhaps the most interesting thing about the hotel in Singen was the artwork in the breakfast area. Certainly, you have seen quotes by all the famous people in history.... Plato, Caesar, Napolean, Shakespeare, etc....
I was taken aback by this one......
"Give each day a chance, the most beautiful in your life will be.....Mark Twain"
The next day we went back to the clock shop....... and bit the bullet and splurged with the acquisition of our unique chalet style clock with an actual working water wheel.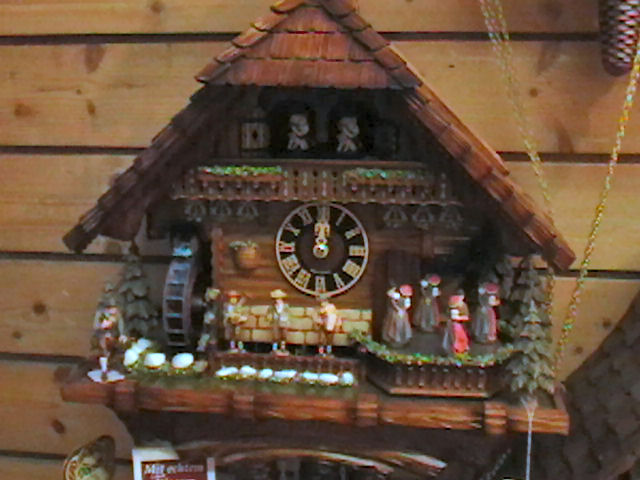 The last night we spent at a hotel near the Zurich airport, and returned on Swiss Air.
Had a wonderful vacation....hope you, the reader, enjoyed it vicariously!
Bob and Gail