Europe 2015.....Germany and Austria
Our first vacation in a couple years.....Gail and I opted to go to Germany for two weeks in January....hopefully to see some snow and visit the Hones cuckoo clock factory.
On January 19 we flew into Munich on USAirways. It was an Airbus 320 which carries 330 people,but because it was offseason, there were only 85 people on board. Can't remember the last time I flew on such an empty plane!
the first night we spent in Augsburg, but then headed to see Hannes and Barbara in Mauerbach, near Vienna. then we spent two nights in Wels, Austria. We decided to take a scenic drive for a day and headed south to Bad .... It was a cold gloomy day, but we took some country roads and saw some neat little villages...kinda fun driving down one lane roads...but luckily we didn't meet anyone coming.
Hannes and Barbara had made arrangements at a very nice hotel, were we stayed for 4 nights. During the day we had a wonderful visit with Hannes, Barbara, Bernhard, Birgit and Anja. We did not want to do any sightseeing...just wanted to get better acquainted with the family. Hannes took me for a ride in their 1971 Porsche 911 Targa.
In the afternoon, Birgit and Anja gaves us a concert on the keyboard and violin...and then they jointly played the accordion. Anja works the bellows and Birjit plays the keyboard.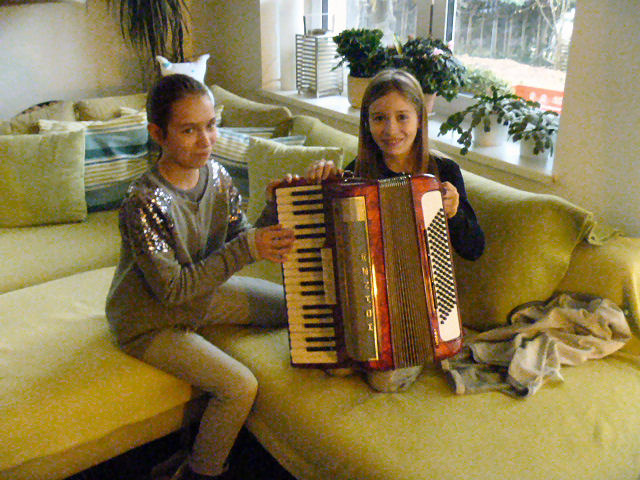 In the evening we wet to dinner at a local restaurant that had a lot of atmosphere.
It started snowing so we decided that we needed to head to Titisee-Neustadt to the clock factory.
We stopped in Salzburg for two nights and enjoyed more snow. During the day we just rested...somehow it is getting more difficult to have constant days of high adrenaline, so we give our bodies a rest.
We were rejuvenated, so we made the 5 hour trip to Singen on Thursday.
Friday we drove to Titisee on snow and ice covered roads since Thursday night had a 5 inch snowfall. It was a unique experience to drive past pure white fields and enter the white Black Forest. All the trees were laden wtih fresh wet snow...truly a winter wonderland...just as you would see on Christmas Cards.
We met with Christian at the Hones clock factory...got some spare parts for our clock and a St. Bernard, pig and goose for our clock. There was a large display of their different models...one with a car in a garage and even one with an American Indian holding a bow and arrow....veritably something for everyones taste!
Gail just loved playing in the snow....reminded of her days in Pelham, NY.....
To and from the white Black Forest, we crossed the Danube river twice....Everyone is familiar with pictures of 100 passenger tour boats plying the river near Vienna, Bratislava, BudaPest....but here it is little more than the Pequest River that bordered my farm in NJ....not much wider that 40' and certainly one that you could wade across!!!!
On Saturday morning, we were having a late breakfast. Gail had been noticing several women and children dressed in costume walking across the plaza. Soon Sigrid came by in her leopard costume....
Of course we stopped her to find out what was happening. She told us that there was a Guild Carnival in the adjoining convention center and that at 2pm there would be a special program for Senior Citizens. Yes, our curiosty was piqued and we went down to check it out.
How fortuitous to be at that table....meet Singrid and have the opportunity to attend.
First we have to back up a millenium or so to set the stage....
High atop an extinct volcano core...overlooking the town of Singen, Germany....sits Germany's largest castle/fortress ruin. Initially built in 931....destroyed and rebuilt several times over the centuries.
In the early days there were organizations called GUILDS....that were the predecesors of todays unions....organizations to support artisans, carpenters, musicians...entertainers...etc.....This particular Guild is reported to be 1100 years old. you can see the remnant of the early days....some of the entertainers are in costumes reminiscent of court jesters....multi colored costumes covered with little bells....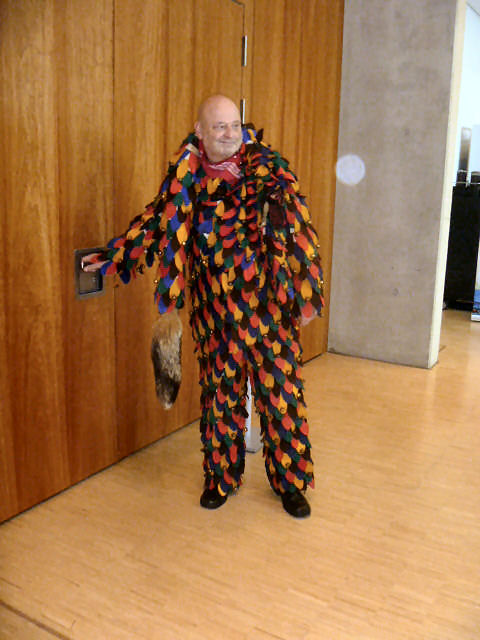 Over the centuries the fun has evolved to all kinds of crazy costumes...
...but back to our story.....
Singrid gained access for us and we sat with a couple at the back of the hall.
We soon became acquainted with Ursula and Klaus...They spoke excellent English and provided much appreciated translation of the inuendo being enacted
.
Here, after a span of just two and a half hours...perfect strangers were swaying with us to the music with hooked elbows..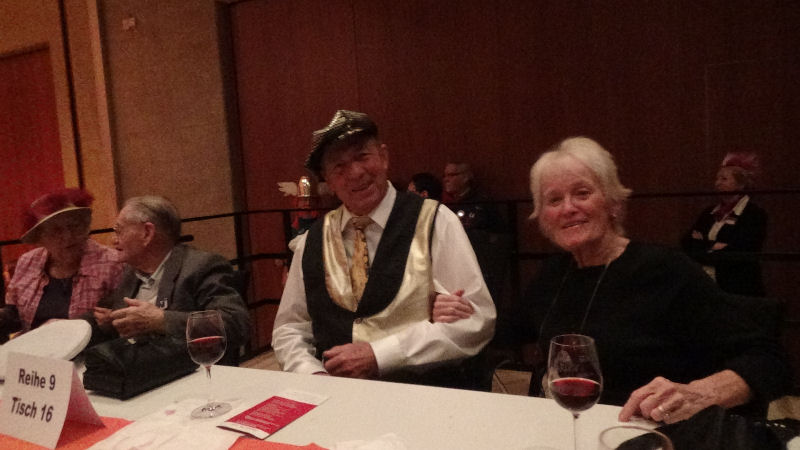 and finally saying goodbyes with hugs and double cheek kisses..... \
The afternoon was a most memorable one that could never have been orchestrated... and wil never be forgotten...
Our last night was spent in a hotel adjacent to the Munich airport and on Monday, Feb 2, 2015 we flew back home, with a transfer in Philadelphia. The flight from Munich had 120 people on it.
Our vacation was filled with lots of snow....on the ground and falling.....I even got to scrape ice off the windshield twice...had not done that in 30 year...(and..honestly...I CAN wait another 30 to do it again!)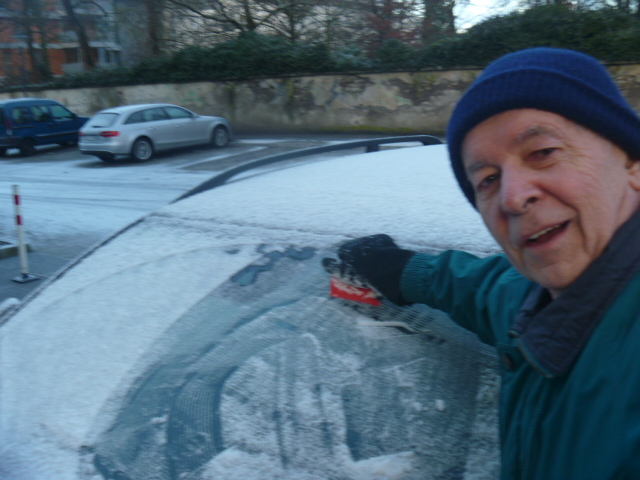 Hope you enjoyed our fun packed trip to Germany and Austria!!!!
an 26
Had breakfast at 9am and then Barbara led us to a gas station in Gablitz and then the autobahn. Easy drive to Salzburg with a few snow flurries. Decided not to check into the Holiday Inn Express and checked into the Best Western Imlauer which had a good view and a restaurant. Had a long nap...great view of the mountain and railroad tracks....
Brought dinner up for Gail....soup with stripped pancakes. I had goulash, fried egg, pickle, dumpling.
Woke up at 9am and there was about 2" of snow on the ground and still coming down...sometimes flurries and sometimes very heavy.
Decided to spend another day here...rest up and ......