Opus II, July 2009
The story goes back several months....when I first heard that the National Packard Museum in Warren would be hosting a 1937 Showroom...attempting to have on display one of every model offered by Packard in 1937, plus several custom cars.
For 40 years I have been involved with the 1937 Super Eight and Twelve. I had always wanted to write a book about them....to pass on all the nuances of information I had gleaned over the years. Unfortunately, life had never slowed down and the book was always on the 'back burner'. I worked frantically for several months, but my reviewers recommended that I postphone publication...AND make a separate chapter on Opus II. This advice I heed, and so, the book is still in gestation.
Opus II was scheduled from July 20-26, 2009.
I had worked for 6 months, inviting owners to bring their cars.
We trailered our 1937 Super Eight LeBaron Town Car...the only one in existence from the 16 that were made.
We started on Friday, July 17. We had a few troubles on the way up to Warren, OH, but got there safely on Tuesday July 21.
The show was a resounding success. We had on display (in an air conditioned tent) 41 of the 49 models that were offered by Packard in 1937. This included the six cylinder, the small eights (called the One-Twenty), the Super Eights, the Twelves, and six custom models.
In addition to the 1937 Showroom, the museum had on display 6 Warren Packards, cars that were built in Warren from 1899 to 1904.
Every night there was a random drawing of stubs for some donated prize. On Saturday night, the Grand Prize was drawn, and we won the 1929 Chevrolet replica NY Police Paddy Wagon.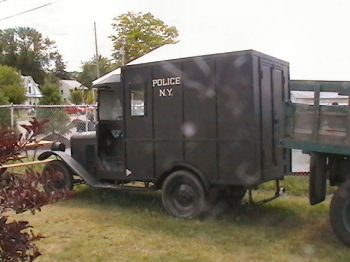 While we were in Warren, we were enthralled with the 'Spectacle of Speed' Goddesses.
The Goddess of Speed radiator ornament was used by Packard from 1937-1938.

In 2007, the Warren Cultural Arts Society decided to hold a fund raiser and commissioned 38 fiberglass models of the Goddess of Speed to be built. A contest of local artists was held, inviting each artist to submit proposed ideas.
Local businesses were invited to sponsor each goddess and a stipend of $1800 was awarded to each of the 38 chosen artists.

While in Warren, we were fortunate enough to acquire this Goddess of Speed, which is a collage of features of various Packards.

Of course, we had to bring the Packard home and then a few days later, drive back to Warren Ohio to get the Paddy Wagon and Goddess.
Needless to say, two trips to Ohio in 5 weeks is not an activity we want to underetake again any time soon!