What can we say, other than we like birds.....
This web site is devoted to pictures we have taken over the years. Some pictures are large, some small. If you click on the small thumbnails, a larger picture wil appear.
Over the past several years we have enjoyed numerous different species, so we decided to share them with you.
April-May 2013 we spent 11 days on the Galveston beach with our Airstream.
One day we were excited to watch a Pelican Feast. Take a minute to download (it's 10.4M so it will take a few seconds...) our 18 second clip of the feast
One of the rarest ...we have ever had the opportunity to capture.....
...a Red-Bellied Woodpecker and a Cardinal at the feeder. We thought Red-bellied Woodpeckers were only carnivores, looking for bugs under the bark of trees, but this chap certainly liked birdseed. (we also have a video of his feeding. I hope you can click on the link below to watch.) Of course, the Cardinal is unmistakable.
If you think this is a fabricated picture.....
The following are pictures and thumbnails....click on a thumbnail to see the larger image....
At the hangar, we have many friends, so let's start out with the buttlerflys...

One of the most rewarding episodes at the hangar was watching the antics of the kildeer.
For several years, a persistent couple has insisted on making a nest in the middle of our
driveway. Needless to say, it is frustrating to have them make a nest amid the pebbles.
For several weeks we had to drive on the lawn so that we would not disturb them sitting on the nest.
We were very fortunate to be here in the spring 2008 when the eggs finally hatched.
Kildeer are very different from most other birds. When the chick hatch, they are spitting images of their parents, and are able to run throught the grass to follow their parents.
Because they nest on the ground, they are suseptible to predators, so the adults have developed a strategy to draw enemies away from the nest. They stretch out one wing and cry out as if they are wounded. They scramble away from the nest to draw the predators away. It is quite a sight to see the chicks come out of the egg and be able to run down the driveway.
Our most enjoyable feathered friends at the hangar are the Purple Martins. They generally arrive around the end of February and stay until after they have hatched their young, and then fly north in late summer.
Here's a couple of pics of them on the bird houses and on their roost (an old tv antenna.) What we enjoy about them is their chatty nature.
***
In the evening we sit on the deck to watch alll kinds of flying. One evening we were able to videotape flamingos flying by.
(You can identify the flamingo by the black on the wings; Roseate Spoonbills do not have that marking.)
There is a drainage ditch on both sides of the runway . Occasionally we have heavy rains.
(...so what else is new!)...and the birds seem to know that 'lunch' is readily available....
Here's a White Ibis that was looking for lunch in the ditch along the runway after a rain.
Sitting on our deck, we get to enjoy other feathered friends...
On the left is a Green Heron, center is a Sandpiper, and right is a Little Blue Heron

a Red Wing Blackbird
and, of course, Green-throated and Ruby-throated Hummers.
Once we even saw a Caracara walking up the runway.
The Red Tail Hawks are usually seen sitting on power lines, but occasionally pay us a visit.
The Sandhill Cranes pass through the area every Spring. They stand about 4' high.

Several years ago I was in Edinburgh, Scotland. There was a country fair and one of the exhibits had an assortment of birds. Needless to say, the Golden Eagle caught my attention. In the US it is illegal for individuals to own the Golden Eagle, but not so in Scotland. For a modest fee, I was able to have my picture taken holding this beautiful bird.
On the other end of the scale, one day a Sparrow chick wandered into the hangar. I was able to catch it and release it after the picture.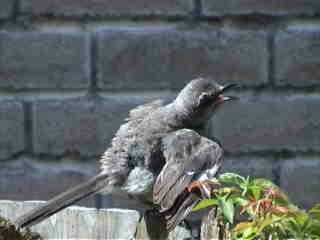 Here is a young Mockingbird sitting on my fence.

A neighbor across the runway has a pond that has become 'home' to a flock of Whistling Ducks. These ducks do not quack, but make a whistling sound when they fly. Another unique feature is that they sit in trees. Yes...ducks in trees...an odd sight.
Goldfinch are the only birds known to feed upside down. Their favorite food is thistle seed.

Around 2007 a flock of 200 were passing through on their migration.

This picture was taken a few years ago in winter. Two Inca Doves are huddled to keep warm.
Many of you have heard of squirrels storing nuts in the ground for winter food. The Loggerhead Shrike is known for storing tasty morsels on the thorns of our Parsley Hawthorn tree. Here you see a small snake impaled.
A buzzard doing a low pass over the runway.

In May 2008 on our canal boat trip in England we saw this goose with her goslings.
A swan and her signets on the canal.
We stopped at a village Fair in England and met the falconer, who put on a demonstration of hawks. He had this Harris Hawk fly onto my arm.
Here we see a Great Eagle Hawk sitting on Dave's arm.
I don't know what the name of this bird is, but I saw it in a field.
...and another unknown English bird....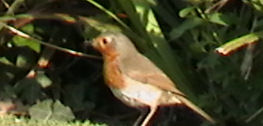 This one I know...it is an English Robin.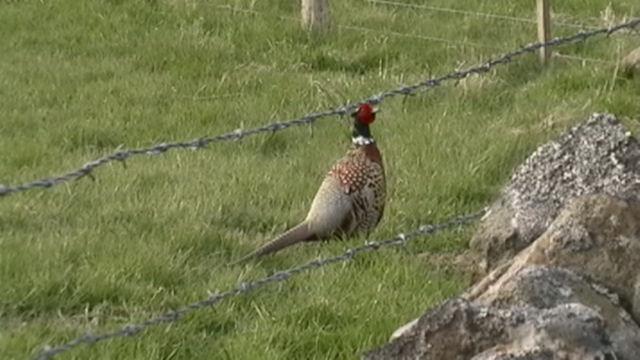 English Pheasant behind a rock wall.....
Here's one I just have to sneak in....
On the left is what appears to be a bird on a roof. Actually it is made of thatch. The picture on the right is that of a Thatcher repairing the roof of a house in England.
As everyone knows, artists paint their signature in the corner of a painting. This Thatcher makes an image of a bird on every house he thatches...a rather unique signature.
A few years ago we were invited to our neighbor's ranch for turkey hunting. This hen knew that only Toms were in season, so she was pretty brazen.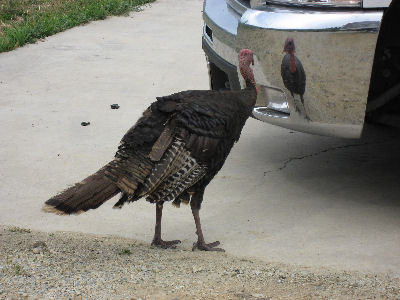 You have always heard that turkeys are DUMB. Well, our good friend Dave took this picture of a turkey in Montana. It saw its reflection in his truck bumber and was very irratated that he had competition in his territory.
In February 2012 we spent the month at Brazos Bend State Park. We were treated to a closeup sighting of a Pileated Woodpecker near the base of a tree no more than 100' away.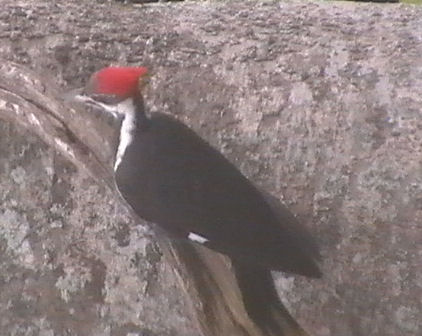 We also spent many hours watching a red bellied woodpecker finding meals in the tree bark and eating the seeds that we tossed on the ground.
This little woodpecker provided many hours of amusement. If its head is a little blurry it is because it was constantly in motion.
This is a female painted bunting. It wasn't until April 2013 that we were treated to see a male at our feeder....
Spring 2012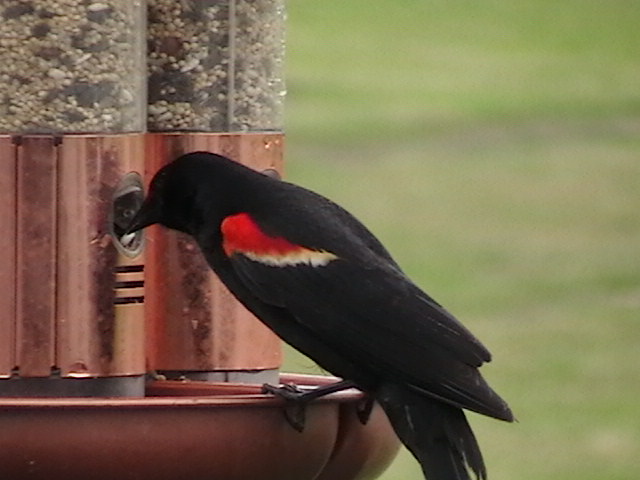 We have enjoyed two pair of redwing blackbirds
and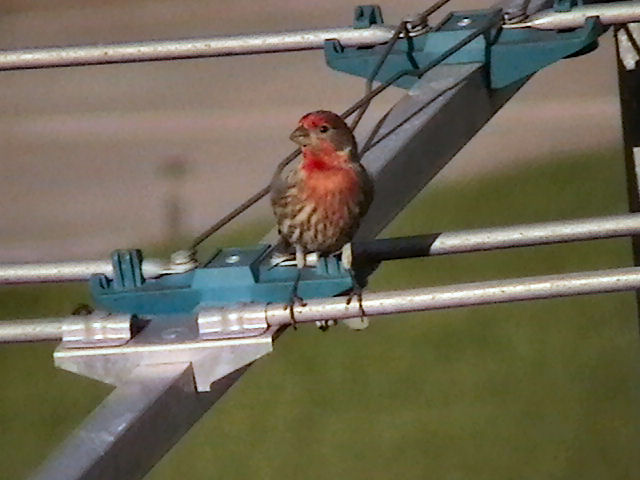 several pair of House Finch.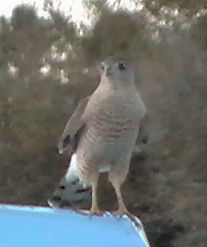 I believe this is a kestrel that I photographed back on March 20, 2011.
This is a Black necked stilt that was feeding at the edge of the runway after a heavy rain.
Here is a Chickadee feeding in the mouth of a unique feeder called 'Bob'.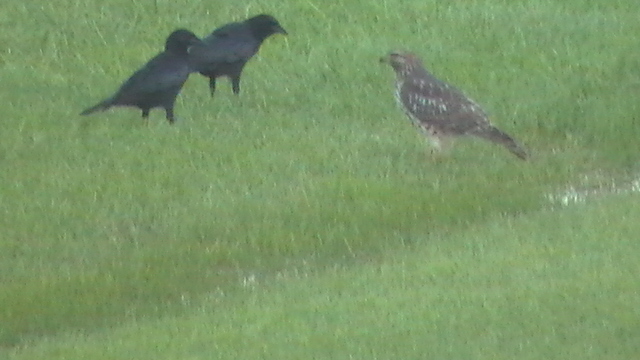 Looks like this red tailed hawk was telling the two crows to scram!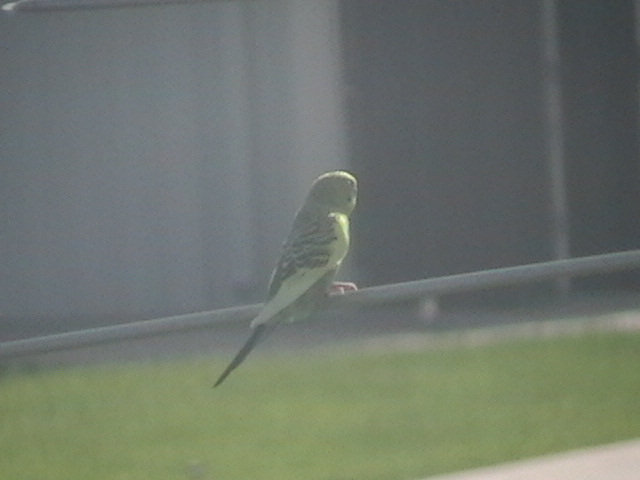 One day we even saw a parakeet sitting on the antenna roost.
Even Vultures, ugly as they are....serve a useful niche in the environment.
Here's a white wing dove sitting on the antenna roost next to a purple martin.
April 1, 2013 a flock of 8 Roseate Spoonbills flies over.
Feb 16,2019 a bluebird perched on our purple martin house. The next day we bought a bluebird house. A week later we watched them carry grass to build a nest.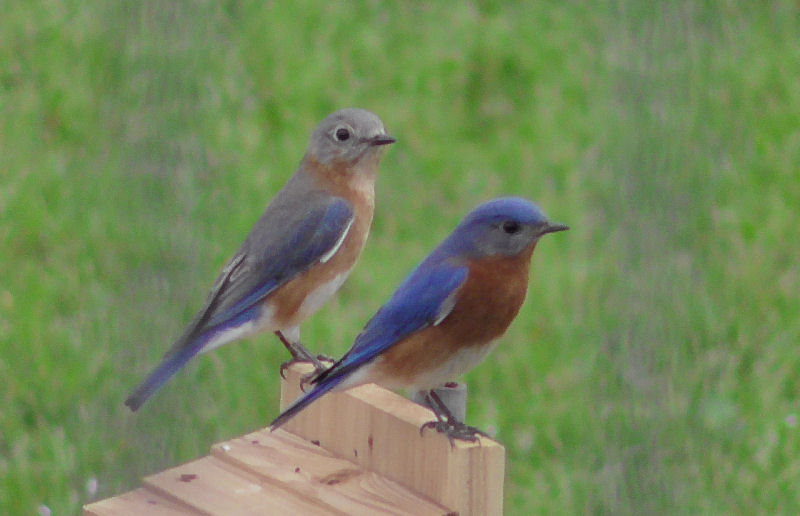 April 10, 2019 I got this pic...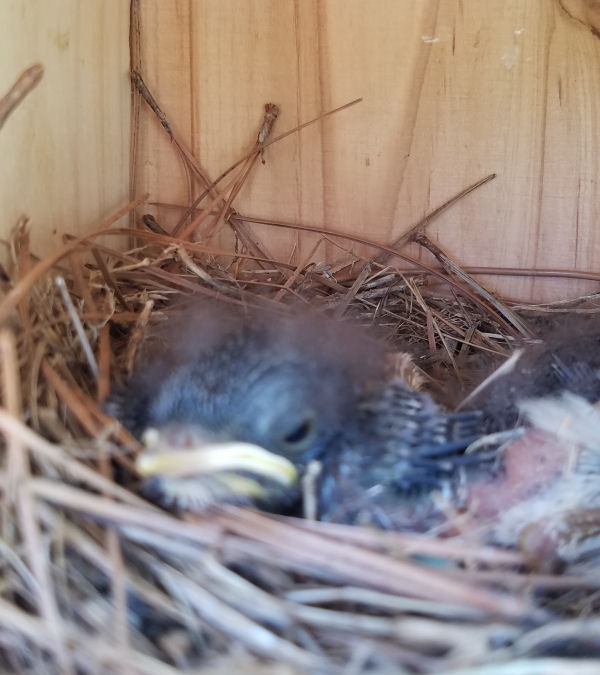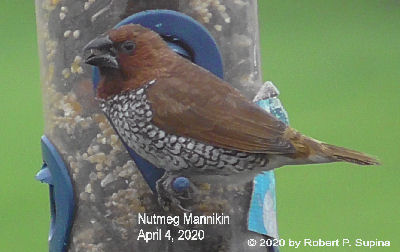 We have a flock of eight.
Unfortunately, this is an invasive species from the Far East.
We are working with the Curator of Vertebrate Zoology at the
Houston Museum of Natural Science
to document their frequency of visits and habits.
"Take my picture'
This is our resident rufous hummingbird.
A bit blurry because he is faster than the shutter speed.
Thanks for visiting our site....we hope you enjoyed it.
Bob and Gail