Europe2004
TO ALL READERS:
This diary is a detailed account of our trip to Europe. If it seems to get too detailed,
skip to the next area. I have tried to highlight some key words.

Gail and I had made plans to come to Europe in early May when Air France offered a special promotion the day they entered the New York Stock Exchange. Those readers who wince at the fact that we patronized French business, keep in mind that we were driving a car with French license plates. During the course of the 3.5 weeks, there were innumerable times when I was driving in the left lane at the speed limit and hellions would ride my bumper and flash their lights.
I KNOW they were cursing the 'damn French driver' in front of them.

Friday October 15, 2004
We went through the airport security check with no problem...but 2 hours into the flight, I could not believe my eyes?they served us dinner with stainless knives and forks!!!
Friends, who are frequent overseas travelers, told us to sleep thru the flight and we would not have any effect of jet lag. We did that, and it worked perfectly.

Saturday Oct 16.
We landed in Paris, rented a diesel Renault and headed for Germany and the Black Forest.
It took us a while to get out of Paris and find a comfortable country road. A few hours later we were needing a rest stop and saw a sign for Baccarat. "WOW! This is the name of a fine crystal!"...so we eased into the village of Baccarat. We passed a large old factory and pulled into the parking lot in the center of town. A sign pointed to a museum up the hill. A 18th century chateau housed an array of beautiful crystal.
Exiting the museum, we decided to first check out the multitude of crystal shops on the street, and then go into the factory gift shop. Of course the shop owners were all hungry like vultures, since this was not the height of tourist season. We noticed that all the pieces had small foil labels with the name ?Baccarat? on the base. When we went into the factory store, we spoke with the young clerk and asked about the difference in the shop?s crystal and the factory store crystal. We were told that ONLY the factory store had Baccarat factory crystal?all the other shops had crystal made elsewhere and their label only indicated it came from the town of Baccarat...Moral...Buyer Beware!


We only got as far as Colmar, France and saw a charming old hotel with a sign indicating it had been built in 1584. Unfortunately, a wedding party had taken all the rooms, so we had to settle for a nearby ?newer? hotel built in 1727.

Sunday Oct 17.

In the morning, we saw an old Church...going in, Mass was in progress, and it seemed to be a special ceremony with many children up near the altar...seems that about 12 of them had recently served Mass for the Pope.

We went on, driving thru Friborg...the back roads to Triberg, where I had bought my cuckoo clock in 1971. Such a pleasure driving the winding roads thru the Black Forest!
Stayed in Schaffhausen for the night in Hotel Kronenhof.






Monday, October 18, 2004.
We awoke at 6:30 after a good nights sleep. Breakfast was a buffet of cheeses, fruits, yogurts and breads.
As we walked to the car with our luggage, my curiosity about the church next door got the best of me. I walked around to the far side, looking for the main entrance. As I entered, I realized the church was not Catholic because of the lack of statues of Saints?and no crucifix over an altar in the nave...but the massive pipe organ immediately caught my attention...IT WAS BELLOWING!
I immediately rushed out to get Gail to relish the experience.
Back inside , I eased into the center of the church and started to videotape the private concert we were getting. When the organist finished the piece he was playing, I called out??Could you please play something of Johann Sebastian Bach??... He moved to the adjacent closet and selected a piece of music. Sitting down, he breathed life into the organ. The church began to reverberate with the power of Bach. After soaking in the strains for a few minutes, I walked around to the side of the organ, and began to ascend the stairs. I noticed a velvet rope across the top of the stairs, so decided to go around to the other side?perhaps he had not closed the other side. As I was walking around..still enjoying the power of Bach, Gail motioned me back..kinda giving me courage to go back? so I reclimed the 8 stairs...unhoooked the rope ....cautiously walked closer to the master at the keyboard and stood amazed at his fingers and feet ... commanding the instrument to praise God.
...

The waiter , the night before, had told us about Rheinfall. As we drove south, we saw the brown sign pointing the way. On the spur of the moment we decided to investigate. Click on a Pic to see it larger.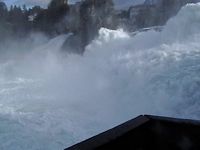 As we wended our way down the hill, we saw a large empty parking lot, so we pulled in and parked. A short walk toward the low roar we began to hear, led us to a stairway. We began to get a glimpse of the foaming cauldron. Slowly we descen ded the 276 steps to the bottom. Every level had a more astounding view of the falls...a mini Niagra. Finally on the bottom, we were able to lean over the rail and almost touch the power that churned before us...a constant rainbow pointing to the bottom of the falls.
We spent a half hour there in a gaze...just stupefied at being able to witness this strength of nature.






At 1:35 we rounded a bend and beheld what we had dreamed of seeing?the white capped peaks of the Swiss Alps. Off in the distance?beyond the bright green fields, spotted with the Brown Swiss cows.


We continued on toward the city of Interlaken...stopping at the only antique shop we saw. As we were entering the store, I noticed a 1953 Mercedes 170 sedan roll down the road. Of course I did a double take?thinking it was impossible to get back into the car and follow the M-B. An hour later, while driving down the main street of Interlaken, I saw the M-B approaching. I did a U-turn in the middle of the block and followed the elusive gem into a nearby hotel parking lot.


Lucky break #37...the two men emerging greeted me in German. "Do you speak English?" I asked.
"A little bit" they modestly answered. (actually they spoke very good English). For 20 minutes we chatted about automobiles. The driver was from Munich and his traveling companion from a nearby village. Seems that once a year he takes the little black car out and the two of them take a one week driving vacation.

We then continued on to Frutigen, where we wanted to spend the night. The first hotel we checked, did not have any rooms with a view of the snow capped mountains, so we checked out another hotel which supposedly had internet connections. They had no rooms left. On we continued and found a fine hotel run by a couple and their daughter, Hotel National. There were Harley Davidson signs all over. We asked the woman the significance. Seems her husband had wanted a Harley for years and finally bought one. Most of the plaques were gifts from friends. Seems her husband keeps it in its original box and takes it out twice a year.as a special treat.

Tuesday, October 19, 2004
After a nominal breakfast, we checked out and headed down the street to the only computer store in town...thought we might get some assistance in getting our GPS to work with the software we have. Unfortunately, the chap had never heard of what we were doing with a GPS, so we went next door to buy a yodeling CD. The store owner would not accept any of our kinds of money..only French Francs. While we were in the store, he pointed out the window.
Lo and Behold! two men were driving a herd of about a dozen cows down the street. Each cow had a huge bell tied to its neck.
I ran outside to get the camera, and just then another group came down the street.. Following the herd was a young man wearing a rather unique hat.
"I need to have THAT hat" my mind decreed.
I knew I had few Euros on me so I asked Gail...


"Let he have a few euros...I gotta get that hat"
She gave me two bills and I raced down the street. Tapped the chap on the left shoulder and offered my own cap and one of the bills to the startled guy. I think he just thought I was offering him a contribution to the maintenance of the herd. "No,NO you don't understand." (of course he didn't understand...he knew as much of MY language as I knew of his.)?

I again motioned that I wanted to give him my hat and the money for his hat.. He finally got the point and shook his head, blabbering something that was probably saying that the hat cost him more than I was offering.
I dug my hand into my left pocket and pulled out the other euro bill.
His eyes lit up and now he was shaking his head in a positive gesture with a big smile.
We traded hats and I walked back to Gail...beaming with my new treasure.

...................... Continuing down the road another 10 miles or so, we came to the Rail station. It seems that the road goes no farther. To continue south, one must drive onto a flatbed rail car for a tunnel ride. You sit in your car as the train plows through total darkness for about 20 minutes. Then you drive off and continue south. It is a slow but steady climb up to 6478 feet. At the peak, there is a lodge...the snow is falling...temp just bordering 32 degrees .
Gail insists on making a snowball, and we get back in the car and start heading down the mountain.

WE come upon a new foot bridge across the ravine along the road. On the left side is a small building ...a Museum... We go in...no one around, so we start reading the captions to the pictures. Seems there is a path across the ravine that was used by Napoleon on one of his campaigns...so we cross the bridge and take a short walk up the path...picking up a few souvenir stones for the rock garden.
Continuing on, we realize that we are close to the Italian border, so we decide to go to Italy for lunch. Soon we come to the border...the guards wave us through.
We take the thruway, headed for Milan...decide to stop for lunch...stop in a little village...pull into a little ristorante... The elderly couple (owners and operators) cannot speak a word of English, but we manage to order the universal word "spa- get-ti..."

Italy does not suit us...the weather is lousy...the scenery leaves a lot to be desired...so we head back north to Switzerland...a different way.

After driving on the thruway for about an hour, I decide to get off and drive the old road...more scenic...goes through all the little quaint towns. WOW! What a mistake.
Soon we were climbing.
Now keep in mind...I am driving a brand new car with SIX forward gears. I am climbing in 2nd gear...from 1800' to 5678'...via 34.. YES, THIRTY FOUR switchbacks.
Boy did I need a scotch by the time I got to the top. ( the map shows only SOME of them.)

Worst part of the story is that, earlier, I had decreed that I would stop driving when I got to San Bernadino. Heck, it was only supposed to be a 10 mile trip. Well, that 10 miles took over an hour.

Can it get any worse???? YOU BET!
Seems San Bernadino is primarily a ski resort?out of season it is a ghost town. All the condos were boarded up and the hotels closed.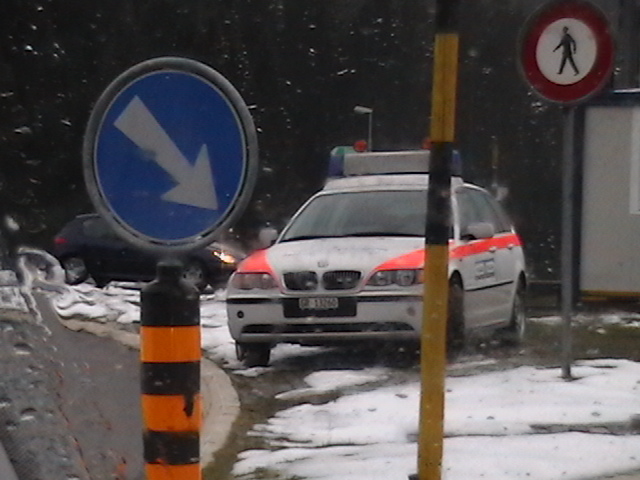 Well, I had my fill of scenery, so we decided to proceed north via the thru-way. While waiting for a traffic light, I noticed the BMW Police car sitting on the side. I guess resort areas treat their Police departments nicely. The light turned
and we descended through an 8 mile tunnel.
I'm getting tired of driving now, so decide to get off at the next town and look for a hotel.
Next exit I take and pull into a sleepy village.
Lo and behold...what do I see coming down the street...a herd of goats...get out the camera...take a few shots and get back on the thruway. Approaching the next exit, it looks like a lit-up hotel. Fortunately there are 3 hotels and we settle in on this one...built 285 years ago...very fine interior...even has a new wing with a heated swimming pool.
This is the town of Splugen...Hotel Bodenhaus.

End of Tuesday's episode!

............................
Wednesday Oct 20

Well, we got up at a reasonable time and went to the dining room for breakfast. I was entranced by the ornate wood ceiling, paneled in pine with great circles and squares. The owner of the hotel told us that the ceiling is original to the hotel and had been in a bedroom upstairs...one in which Napoleon III had slept.

Breakfast was the standard...juice, rolls, cheese, salami, and yogurt. We then took a walk thru the village. It was turning into a beautiful day ...the sun was out and we didn't even need a coat.

We flipped a coin to see if we should take a swim in the hotel indoor pool, or head on up the road on the next 'quest'... I had asked the desk clerk about the cow bells. Seems that the farmers put the bells on the cows. In the morning they march the cows thru town up into the mountains. When it is time to return to the barn the farmer counts the cows. If there is one missing, he is able to find it in the fog by the sound of the bell.

In the hotel in Splugen, we had asked where the farmers buy the cow bells. They gave us an address in Siebnen, so we headed north and took the road toward Zurich. We found Siebnen and stopped at the police station for directions.

Seems the address we had was in a residential district and we found the house. We were rather shocked that it was not a farmer's feed store, but a house where an entrepreneur had a business of making custom leather belts to hold the bells around a cow's neck. After some friendly conversation, I bought a very old bell that probably dates to about 1910.
We asked the folks where we could get some authentic Swiss Fondue. They told us about a restaurant on the lake in the town of Lachen...so we went.

Seems that the restaurant only opened 3 days before. For an hour we walked along the edge of the water, watching the nasty swans and sea gulls.
The fondue was most enjoyable and we asked the waitress where I could buy one of the salad bowls which had an American WW I airplane on it. She graciously gave me one of the bowls.
We asked about a hotel with internet connection...seems that the ultra modern Hotel next door, the Al Porto (which just so happened to own the restaurant) was recommended. We stayed there for the night.

Thursday October 21
In the morning we headed for Austria, taking the motorway to make a little time. All of a sudden, we saw an exit for Heidiland, so we quickly took it.
Seems there is a large rest stop on the Motorway capitalizing on the fact that the creator of the children's book 'Heidi' lived in the neighboring village of Maienfeld. We went to the village and was told that the author's house was up on the hillside.
Since Gail's mother and her daughter are both named Heidi, visiting the author's house was a MUST....and, of course, collect a few souvenirs to bring back.

Friday October 22
We got up early and instead of eating in the hotel, we went into old Salzburg. We found a little cafe' in a passageway... a few tables inside, but most outside in the walkway. There we sat and enjoyed the rolls and pate and coffee.
Refreshed, we headed to the castle.

The decision to spend the 5 Euro to take the tram up was well worth it...as we later found out.
Inside, we took the guided tour and saw all the inner rooms of the place. We had to rush a bit at the end because we needed to check out of the hotel by noon. But we did stop for a few minutes at an antique shop to check on the price of a Swiss cow bell, similar but smaller than mine...he wanted 200 Euro....several times what I had paid for a larger one. He also had a book in the window opened to a picture of a 1937 Packard Twelve Victoria. I think the car belongs to the CCCA guy in San Antonio. The shop owner would not sell the book because it was part of his personal collection.

We used the motorway to drive across Austria?when we got to Vienna, we missed the first turn to Hannes... and finally saw a bus with the name "Gublitz" so we followed it and finally got to his home.

Saturday, October 23

Hannes knocked on the bedroom door at 5:30am. A quick breakfast and Hannes, Bernhardt, Gail and I headed into Vienna for the city's largest flea market. When I got there, I recognized the place as the same market I had been to in 1971. We had forgotten to bring a flashlight and magnifying glass, but soon it was light enough to fumble through all the stuff on the tables. The magnifying glass would have been helpful in studying the marks on the sterling silver. It was tempting to get a complete set of silver...which was very cheap, since there is so much silver in Vienna. Hannes has now been commissioned to find me a set that is about 150 years old. I did manage to get silver tongs for sugar cubes, a Swiss coffee urn, and the prize find was an aluminum reproduction of Lalique's most famous "Victoire"... After we got back from the flea market, We all went into Vienna for a tour of Historic Vienna

...St. Stephan's Cathedral, St. Rupert's Church...built in the 11th century, the government buildings and the military display for the upcoming ;holiday on the 26th.


Sunday Oct 24

Decided to 'sleep in', but little Birgit didn't get the word..so we were up at 6:30. I went with Hannes to his uncle's house to get his 1960 Mercedes 190 SL roadster. We got it started and went around the block, but it seemed to be running very poorly. He cleaned the plugs and noticed that the choke cable was loose. Once that was fixed, it purred beautifully, so we drove into Vienna to his old apartment. There he showed me all of his choice collectables...



.
very rare model trains, swords, and guns. I managed to talk him out of a double barrel shotgun that was used about 150 years ago... It was designed by a Frenchman, Lefourneaux.
We rushed home and then everyone piled into the station wagon and we went to a nearby restaurant where we met his parents (Felix, his father, is my second cousin...i.e. his grandmother, Peregrine, was sister to my grandmother, Johanna.) After lunch we went back to the house and soon, several of Hannes and Barbara's friends came over for the afternoon.
After all the company left, Hannes and I took the Mercedes to a garage in Vienna, near his parents' home.
In bed at 9:30...It was 'collapse time'.

Monday Oct. 25

Got up around 7am and had a leisurely breakfast...packed up the car and bid goodbye to Hannes, Barbara, Bernhardt, and Birgit...left about 10am. Hannes had to go to work at noon.
Headed toward Budapest. Saw the sign for the Roman ruins of Carnuntum so took a bit of a detour. I had been there back in 1971. At the time, only the amphitheater was exposed.

Since then, they have discovered numerous other Roman sites nearby and a second amphitheater .
Next we went across the street to have a bowl of pumpkin soup. Continuing on, we eventually got to Bratislava. I was astounded at all the modern buildings and freeways that are under construction ...SOOoooo different from my first trip across the border in 1971.
We eventually arrived in Budapest around 5:30 and decided that we were too tired to find some local hotel, so we settled on a Hilton.
After settling in, we decided to find a restaurant for a meal of Hungarian Goulash, but , alas, the only local restaurant, \would only take Hungarian money and we had not changed any cash into the local stuff, and the restaurant would not take plastic? Tuesday Oct 26
Drove around downtown Budapest...dismayed at the traffic, lack of signs and graffiti on the walls, so decided to head out of town. Found ourselves headed east, so using the GPS compass, we wended our way north toward the border of Slovakia. We were on a narrow country road and came across a border crossing. Guards told us we could not cross there, but could not get a reason from them, so we continued north... finally finding a more major crossing point. Using our Slovakia atlas, we managed to get to Nitra and find a very nice 'pensione' on the edge of downtown.
In the morning, as we were checking out, I casually mentioned to the owner that my 'uncle' was a Monsignor at one of the churches in town. He graciously called the Basillica and was told that Monsignor Bolecek was very well remembered. ..that he, indeed, had served at the Basillica. We went up to the Basillica/castle and were astounded at the beauty of the interior of the church, small though it was. A few minutes later, one of the attendants came out of a back room. When he saw me, he was astounded at the striking resemblance... said I looked very much like the Bolecek he knew. He continued to sing high praises of Monsignor Bolecek and told me that a book had been written about him.... that we should go down to the seminary below the castle walls and ask for the librarian to give me a copy.


Unfortunately, the doorman could speak no English, so he called Father Rudolph (a 90 year old) to come down. Father Rudolph could speak very little English, so he called for a seminarian, Peter to come and assist.
Seems Father Rudolph remembered Msgr Bolecek very well... in fact he had given the eulogy at Msgr's funeral.
To make a very long story somewhat short, we unloaded all our bags into the seminary and the 4 of us took off in the car...first to a back street restaurant that served excellent Slovak food... Lunch was first...a bowl of soup..sheep milk with cheese, paprika and potatoes. The main course was a plate full of 4 large rolled potato pancakes with a duck liver filling.
Next we headed west toward Pusta Sady, where Father thought that Msgr Bolecek was buried. We arrived at the cemetery and one of the women there, told us that he was buried in the neighboring town of Zemanske Sady...so on we headed... And found his grave...along with many other Boleceks. I took photos of all the headstones so that I could correlate with my database.


WE then took Father and Peter back to Nitra, and then headed on to Piestany. We stopped in Tracovice. I parked across the street from the house that Bubka Bolecek lived in. There is a For Sale sign on it. Anybody want a family-historical house?????


We went into the cemetery and there must have been 50 people attending to the graves.
We were amazed at the respect that the Slovaks have for the dead. We had seen them scrubbing grave markers, heaping flowers and a multitude of votive lights on all the graves. It was especially noticeable at night. I doubt if there was a single grave without a burning candle.

I noticed that someone had even tilled the ground over Great-grandfather Pavel Lopasovsky's grave. We went into Tracovice and found a florist and got a large potted chrysanthemum to put on his grave.

We arrived in Piestany in the dark and had difficulty finding a hotel. Finally we were directed to a rather new 7 story hotel right on the Vah river, overlooking the bridge to the mineral baths.

Wednesday Oct 27

The sun rose in the morning and woke us. After breakfast we went to the island to find out about the mineral baths and to ask if there would be any folk dancing. Unfortunately, the folk dances are not scheduled until Nov 25.
After walking the downtown streets, which are closed to autos, we found a CD of Slovak Folk music.
Heading southwest, we took the back roads looking for the village of Sekule. A couple years ago, my friend , Lucia, told me that there was a small pottery shop that made dinnerware and other pottery in the traditional patterns of the old Slovak. I was interested because the Modra pottery is not really designed for daily use, but for decoration, whereas the Sekule pottery is microwave and dishwasher safe.
We found the town, but could not find anything that looked like a pottery shop, so we stopped to ask two young men outside a bar. First they thought I wanted a restaurant, but when I wrote "CERAMIK" they understood...and directed me the two blocks into a residential area where there was a shop in a house. The man and woman had 3 women working, making one pot or dish at a time and hand painting each one before it is fired. Their inventory was very modest...about 5 or 6 pieces of each kind. Unfortunately, 99% of the inventory was in a brown tone...only a few pieces were in the blue. I bought most of the blue and a couple brown....24 pieces (not counting lids). THIS STUFF IS TOUGH. The owner banged two pieces together without chipping or breaking.
Unfortunately, they did not take credit cards, and it wiped out our cash reserves. After videotaping the operation, we headed on... stopping at the first bank we found, to convert travelers checks to Slovak money. I don't think they had ever done it...they had to read manuals...but finally we got some money.

We headed east toward VAlaska Bela, but only got as far as Senica, were we stopped for a roast duck dinner and a room for the night. For an hour we had internet connection...allowed us to catch up on our mail. Hotel tried to charge us for the hour, but we convinced them that we had not been informed of any charges.
Friday Oct 29

On the way to Valaska Bela we passed Trencin off on the right... Some day we must get a tour of the castle there.

We arrived at Stanislav's place around 3:00. Stanko was busy working in his garden and Anna was working the 11am to 11pm shift in Prievdza and would not be home til midnight. We met Maria and Alexandra. We tried to communicate with dictionaries, but did not get very far, so Alexandra called her friend, Daniel Renusa to come to our rescue.
I had met Daniel on the internet about a year ago. I had posted a memo on a geneology website about Valaska Bela. Daniel
responded and said he lived in Valaska Bela. Subsequent messages discovered that he was a neighbor of Stanislaw and that Alexandra was his close friend..(Is this a small world???)
Daniel translated for us until 4:10 when Stanka and her parents arrived. Sometime later, Stans brother Julius, wife , daughter Christa, and their son Mario arrived. For hours we chatted with Stanka translating both ways for us.
Maria told many stories about Dedko Thomas Supina?how strong he was. I videotaped it all, so some day it will be transcribed with all the humor.
Mario came and sat next to me...Mario is a young man and three years ago he started a business as a blacksmith. He showed me a photo album of some of the work he has done...very ornate gates, balcony railings, etc...If it were not prohibitive, I would have him do some special work for me, but shipping would be outrageous.

We thought we were going to be able to stay at Stan's house, but we did not know that he had a house full of guests, so we decided to spend the night in Cicmany. Stan, Julius and Stanka led us there in Julius' car.
We had a glass of wine in the bar while they were cleaning a room for us. Unfortunately, the room reeked of smoke, but it was the only room they had, so we got a couple candles to counteract the smell.
(Moral?when traveling in Europe(BRING DEODORIZERS!!!)
The bed was the worst we had experienced in our travels and neither of us had a good night.

Saturday Oct 30
In the morning,we looked out the window. I had to get the camera...there on the hillside about 200? away, two farmers were plowing a field with a horse. One man drove the horse and the other guided the plow. I had not seen that in 50 years. Guaranteed that this was NOT a tourist demonstration!!!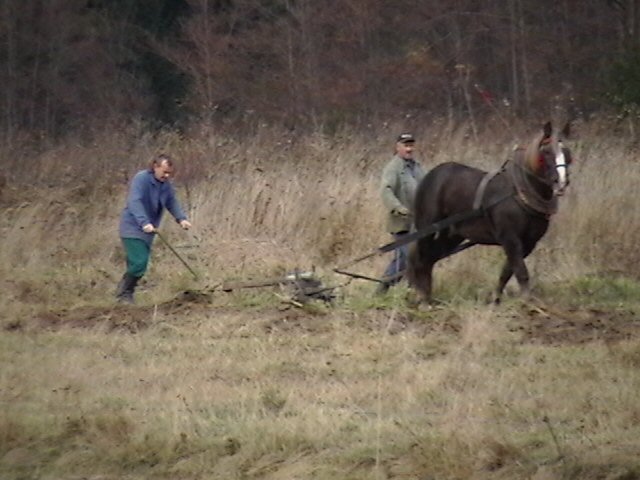 We got to Stan's about 10am and had a cup of coffee and some colach. Then we all went down to the Kristal factory. Stan had to work from 6am to 6pm so he let us come in to watch the blowers (unfortunately, those who cut the crystal were not working on Saturday). After we watched for awhile from the balcony, Stan came up and invited me to go down and try my hand at blowing a glass. I was overwhelmed?never having expected to get such an opportunity. I followed Stan down and waited for the signal to start. At the signal I started to blow?several times I had to catch my breath?the larger the crystal bubble grew, the harder it was to blow. Finally when it was about 9? in diameter, Stan indicated I should stop. I felt very proud of myself and went back up on the balcony.
Moments later, the little yellow-shirted blower, who looked Turkish, came up to the balcony and presented Gail with a crystal pig. Apparently he had been throwing kisses to her. When she responded and threw a kiss to him, it 'pulled his chain'... While he was presenting the gift, the rest of the crew downstairs were giving 'cat calls'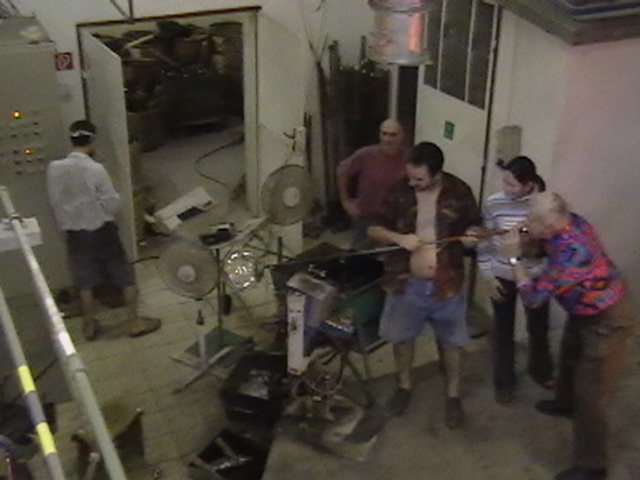 Later, we all went to Stan?s Mother?s house on the other side of Valaska Bela. She had wanted us to come over to feed us some of her Goulash. After eating, More company came...Stan?s brother, Paul and his wife, and their son Paul and his girl friend. I asked young Paul about himself...somehow in the conversation he said he had visited Walt and came to Texas. I scratched my brain and could not remember anyone from Slovakia visiting me in Texas. When he told me about my Mercedes, Lincoln, and pickup, it started coming back to me. After visiting Walt, he flew to Chicago...I was at Purdue at the time. I picked him up and he stayed with me for a week. During that time, I fixed him up with a date with Marilou?s niece (which he did not want to admit remembering, since his girlfriend was sitting next to him.).
What threw me off was the fact that 12 years ago he was a skinny lad of 19 and now he towers above me and outweighs me by 80 pounds.


Julius' wife put on Bubka's kroj and showed us a few fancy steps, since years ago ,she used to do folk dancing.

We all went back to Stan?s place for more family stories, and about 9pm we were all exhausted, so we went back to our room in Cicmany.

Sunday Oct 31.

WE got up too early, because we forgot to set the clock back. We got to the Kryistal factory store at 9:30 as agreed. Anna?s friend opened the store just for us. After picking out a set of wine glasses and a set of short whiskey glasses, we went up to Stan?s house for a last cup of coffee.
Stanka's mother had come back up to see us once more, and gave us a beautiful book on Slovakia and a bottle of Slivovics from Stanka's sister's wedding, and she gave Gail a beautiful vase.
Then Stan gave Gail a crystal nut bowl and a vase to me. Then Anna gave me a set of embroidered table pieces with the pattern unique to Valaska Bela, which I shall frame and hang on my wall.
Anna then mentioned that she heard I wanted some Slovak antiques. Asking what kind I was interested in and that she would keep her eye out for such items. Stan went over to the windowsill and picked up an antique iron, explaining that his grandmother, Apolonia, had used it. He offered it to me. I was overwhelmed that he should give it to me, so I humbly accepted it. IT IS MY MOST PRIZED ARTIFACT OF THE TRIP.

Bidding goodbye to all, we headed north in a light drizzle.
Three hours later we arrived in Orava at the base of the castle.


For years I have wanted to tour the castle, which was the scene of the first Vampire movie in 1925(Nosferatu). We were fortunate to get a guide who would give a description of a room in Slovak and then turn to us and give the same description in English...but I recorded the entire Slovak and English, just in case there was a discrepancy. Perhaps some day I will know Slovak and compare notes.
It was fascinating going through the many floors and rooms and hearing the various legends of the past owners of the castle.

After the tour we drove to the village of Zuberec, which has many old style Slovak houses. We could not find a hotel so we came onto Tvrdosin where we found a room in a Pensione....a very nice room. Down the street was a small pizza parlor where we had a beer and a pizza.
The next day we looked in a local store for a CD of Slovak folk music. Was surprised to see this one on the rack.

Monday Nov 1

This was sort of a free day. We knew that it was All Saints Day and a State Holiday and everything was closed, so we decided to take a ride up into Poland for lunch. We got there and discovered that they would not accept any of our money(Slovak Krouns, US Dollars, Euros, or American Express checks) or credit cards, so we quickly headed back into Slovakia where we could get lunch.

We then headed for Lokca. Several years ago one of Joyce?s cousins had asked if I had taken a picture of the church where her father was Baptized. I never found a picture, so since we were so close, we went to the church. It just so happened that we arrived while Mass was going on. The church was overflowing and there were many men standing outside. We got near the front door where there as a speaker and managed to record some of the service and singing.
All at once the church bells started ringing, so I got that on tape also?Hope Phyllis enjoys the CD I will make for her.

We also drove through the village of Breza. When we were here in ?87 with Dad Michaliga, the snow was very deep. Fortunately, now it is unseasonably warm. We have brought many sweat shirts, gloves and other warm stuff and have used nothing!!!...but I can?t complain. It is great touring in shirt sleeves.

Since we were now only about 25 miles from the Czech border, we decided to head north again. We once again found that our money was not accepted, so back into Slovakia we went.

The next objective was to once again so some research on the Supina family, on to Bytca, we went. We decided to find the Palace where the records are kept and see what its hours were. Without too much trouble I found the Palace(since I had been there 4 years ago.. On the opposite side of the courtyard was a very old building?open door with an old man standing.
We went inside and found that he was having a photo exhibit. Not wanting to hurt his feelings, we looked around at an assortment of pictures of children playing. As we were leaving, he offered to take us to someone who spoke English. He hobbled across the courtyard to a restaurant, hidden by the overgrown bushes. There we had dinner and the young waitress spoke very good English and told us the Palace opened at 8am.
Asking for a Pension or Hotel, we found that the closest accommodations were a few miles away. We managed to find it, but there was no room in the Pensione, so we decided to continue down the road to the next large town about 10 miles away. Arriving in the dark, we looked in vain for a hotel or Pensione. Finally we asked some folks on the street. They told us there was a hotel around the corner. We spent a half hour looking for it?finally finding it. What threw us off was that there was no lighted sign indicating a hotel...only a 15' high beer sign on the top.
We went in and there was no one at the reception desk...only a telephone number taped to the window...we went upstairs and dismayed at the condition of the place, so we decided to backtrack and drive to Zilina, where we knew there were numerous hotels.
Just outside the city we found a motel/truck stop. The rooms were simple but very clean. We felt a bit uncomfortable because of all the stuff in our car, and a few unsavory people parked next to it?but the bottom line is that all went well.

Tuesday, November 02, 2004

We had a leisurely breakfast which included some hot strudel.
We got to the Palace at about 9am. The woman at the desk woke up on the wrong side of the bed...she just did not want to be cooperative, even though she knew passable English. I wrote down on a piece of Paper...Valaska Bela and Thomas Supina ....then I showed her a copy of my family spread sheet.


She got the picture and went in the back room and came out with a roll of microfilm. I was quite surprised. Seems that back in 2001 the Mormons came and microfilmed some of the ledgers...at least all the Valaska Bela ones. When I was here several year sago, she brought out the actual ledgers to peruse.
From 9am to 3:30 we were glued to the screen ...scanning page after page for any semblance of Supina...
We were lucky to find several new pieces of the puzzle.
I was ELATED to find two pieces of information...

1...Great-great grandfather was named Joannes.
2...Great-grandfather, Thomas Supina , married Julia Moravcik...WHO WAS FROM NOBILITY....so now I am trying to decide if I want to be called "Lord Bob" or "Count Bob"

It was a satisfying day and we headed south on the Motorway.... Finally at 5:30 we reached Piestany, so we checked back into the Magnolia hotel, where we had stayed a week ago?mainly because they have monitored parking, and with a car full of ?stuff? we didn?t want to have problems at this point.

Wednesday Nov 3

Well,we started out a little late...having enjoyed a leisurely breakfast. Then we headed west to Modra. As we approached, we saw numerous vineyards. Entering the town, Gail noticed a weathered sign on a building. I had already passed it so I did a 180 to see what the sign said. It had a picture of pottery and an arrow to the right....so we followed the arrow . About two blocks away I spied in a window of a factory-looking building, a few very large vases. I went inside.
"Is this the pottery factory "? "
"This is the factory store" a customer responded...speaking in rather good English. Gail came in and glanced around at all the beautiful hand-painted pottery. After picking out a pair of candlesticks for Paul and Frances, we started looking for a few choice pieces. Gail pointed to a large vase on the top shelf. It was breath- taking??a scene of a farmer plowing with a horse...JUST LIKE WE SAW IN CICMANY!!!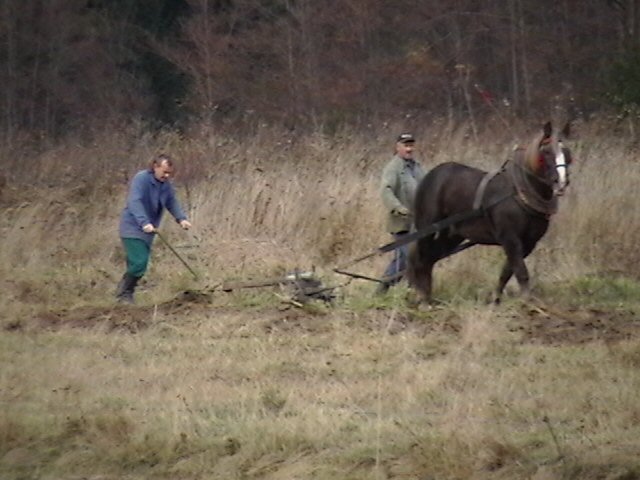 At first I was very reluctant?how on earth would we get such a large piece home.???...... But then it occurred to me... It only cost $30.. and we would never have such an opportunity again...so we decided to get it and worry about getting it home later...
Now the floodgates were open... I started picking out other items to go along with the bowl?a few painted eggs...a few Christmas ornaments?etc. etc. Even if I had to discard my clothes to get this beautiful items home??

We each had two large bags that we could check (and each could hold 70 pounds and each was allowed 2 carryons weighing 26 pounds.)?weightwise we were OK,but I was apprehensive about the volume .

Just before we left Slovakia, we decided to stop and spend the rest of our Slovak money on fuel. I stopped at a large gas station. There happened to be an attendant at the pumps. He asked if I wanted to fill the tank.
'Ne-ah' ...as I held out all the money I had...a few bills and a handful of change. The attendant counted it and started pumping the diesel fuel.
All of a sudden he had a startled look on his face...and stopped the pump. Seems he had over run my allotment.
He followed me as I walked into the office and put my money on the counter. He took out a few coins from his own pocket and paid the rest of the bill.

We headed down the motorway ( like our interstates). Around 2pm we decided to get off in a small town and change some travelers checks into Euros. As we approached the town, I saw a huge pile of sugar beets next to a train, which was also filled with sugar beets. Never so many beets in one place!! Continuing into the town... Much to our chagrin, the town was CLOSED?All the shops were closed...so back onto the freeway?
Twenty miles down the road, we tried another larger town...
Strike two!...the only bank in town could not cash the checks but agreed to cash some dollars for us...enough for dinner?

We arrived in Salzburg at about 5;30 and decided to check into the Sheraton because they had a garage, so our car would be safe with all our treasures.

After checking in, we took a walk along the Danube into the old section of the city. After a fine dinner of goulash, roast pork, dumplings and sauerkraut, we returned to the hotel, did some emailing and then repacked our luggage?
Much to our surprise, we had plenty of space left for a few more tidbits to pick up on our travels during the next couple of days.

Thursday

Well, today was a bit dreary, but dry. We drove north to Munich and then southwest?mainly to see some different scenery. Most of the day the ceiling was down to about 800?, so we saw little of any mountains.

We finally arrived in Chur Switzerland?mainly curious to see what it was all about, because all over Switzerland there are signs pointing to Chur. We arrived at 5:30 and decided to spend the night. We checked into the Hotel Freieck?and then discovered that it was built in 1575. It is a 3 star...room is sparse, but has a fantastic view of the church steeple about a block away and the mountains.
We had dinner in a very old hotel that served a viariety of wild meats. They had a blackboard and posted the date, the hunter and what game he brought in. After dinner we took a walk around the old town..extremely charming with its narrow streets and its uniquely painted houses.

Friday

Much to our dismay, the clouds were still low, so we could not see the tops of the mountains, except for occasional breaks in the clouds.
We headed south and then west, trying to avoid the motorways...choosing to drive the back roads. When we stopped for lunch we asked the waitress about the local areas.
"Well, if you go East to St. Moritz, the air is clear, but it is very expensive...and if you drive ...you have 365 curves to take."
...that was enough information for me to know that I did NOT want to go to St. Moritz. Instead we headed down the road to Furka pass because the Oberwall pass was already closed. I think we did about 355 switchbacks climbing above the treeline to 6735......of course...in the clouds. On the way up, I wondered how many cars were at the bottom of the valley?because many places there were NO guardrails and only about a foot of grass on the edge of the road. Other places it was a laugh...the guard rails were a simple 2x4 about 3' high marking the edge of the road. Once I had to stop the car because a large panel truck was coming down, and I did not want to meet him on the curve, since I knew his wheelbase could not make a tight 180. Notice the 2x4 guardrail around the curve.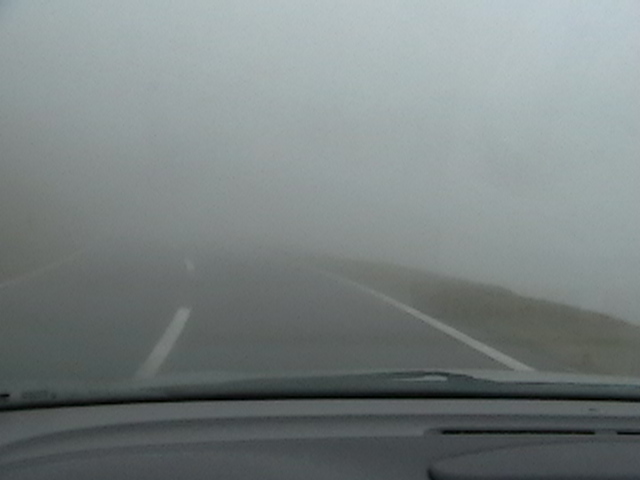 Down in the valley, finally, I noticed a large array of old barns. I turned down the lane and saw one barn door open with about 8 Brown Swiss heifers. Parking, I went over and started calling them to the corral fence. Gradually they moseyed over and let me scratch their heads. Gail came over and at my insistence, patted them on the head?THIS WAS A 'LIFE FIRST' FOR HER. She had NEVER touched a cow.(She grew up in New York City.)

It wasn?t long before I got the memorable picture of her, nose to nose with the biggest heifer.
We stopped at the local information center and asked where do the farmers buy the cow bells.(I still wanted the other kind of bell that we saw). They were dumbfounded. No one ever asked for that information?they were ready and able to tell us about accommodations, etc. Graciously, they called a farmer and he told us of a little shop in the nearby town of Muenster...so on we plodded.
The shop was right on the way, so we went on. It was really an upholstery shop, but the man also made leather straps to hang the bells on the cows, so he had a small supply of bells. Grinning ear to ear, I returned to the car with my new bell.
A few miles down the road we came to a cable car that would take us up to the top of a mountain, where we could look down on the longest glacier in Europe. Unfortunately, the clouds were too low so we had to schedule that moment for our next trip to Switzerland.

We started looking for a room for the night and discovered that all the hotels were closed until ski season started...so on we went. We stopped at a half dozed hotels..
There was NO ROOM IN THE INN for us.
Town after town...
WE took an auto/train for a 20 minute ride under another mountain because the pass above was closed.
Finally we saw a 'Motel' sign, so we went in. It looked inviting because the bar ceiling was filled with large cowbells and 3 stuffed cow heads on the wall. During dinner, we discovered that the owner of the motel raised a breed of cows called Eringer, and that the stuffed heads were a couple of his prize cows. All the other bells were from his other prize winning cows and bulls.

Saturday

In the morning we moved on ..westward now..gradually working our way toward France. We soon got on a motorway to make time. Soon we were looking at Lake Geneva on the left.
We were amazed at all the vineyards on the hillsides?particularly since we had not heard much about Swiss wines.
Going through the border with France was a breeze...did not even see a guard, so I just followed the car in front and sailed along at 40mph. We drove about an hour more and finally got tired of the boring motorway and decided to get off and see the countryside.

We were now heading a bit north?figuring that we would go and find a charming hotel in some little country village to spend our next to last night in Europe. All of a sudden I saw two signs..Abbey and "Taize".
Quite some time ago, Paul sent me a CD of music of Taize so I was determined to investigate?I thought that the singers were at the Abbey.


France is notorious about not following up. You can go for a mile, with many intermediate branches and no follow up signs. Finally we came to the town of Cluny. There is a large Benedictine Abbey that goes back to 910.... We tried following the signs the ticket office for a tour, but the office was closed, even though the hours indicated it should be open.
In disgust we continued up the road. All of a sudden we saw a sign for Taize. A little village on top of a small hill.
To our surprise, we saw a large parking lot with a couple of tour busses and perhaps 100 people in their 20s going to and fro...some eating, some wandering around.
We walked up to a young girl handing out bread.
"Do you speak English"?
"A little, but you should speak to Evan over there"


We started to speak to Evan and what the place was all about.
"First you should have something to eat. Would you like some?"
"Why yes." (we had not yet had lunch.)
Evan led us to a back room of the kitchen, where the help sat to eat...proceeding to dish out some lunch for us.

At 2:30, Brigit, from Norway, came to give us a tour and show us a video about the organization and program.
Seems that is 1945, a Brother Rogers came to this village and started a community of Brothers..now numbering 100. By 1960 they outgrew the village church, so they acquired some land and built a very modern non-denominational church. Today, youth from around the world come to spend a week in prayer, workshops and meditation. In the summer 3-5,000 come and camp in tents.
It was ironic that the 15 minute video that Brigit showed us, had testimonials from a man from India, an woman from China, another man from the Congo, and from Suzanne from HOUSTON!!!!.
More about the community at www.taize.fr even song clips.

Since we had several hours to kill, we went back to Cluny and got a room in a hotel adjacent to the Abbey...It was built in 1817.
It seems that Saturday was market day and the street was filled with vendors from cotton-candy to grandfather clocks.
Much to our dismay, all the restaurants in this town and probably all France, do not open for dinner until 7:30pm, so we finally ended up buying some food in a shop and taking it to our room to eat.
...besides, all the French smoke like fiends which gags you.
(..but ...they are simply killing themselves off!)

We were very privileged to be here on Saturday night for the prayer service at 8:30. Very moving experience with a candle light vigil. Numerous chants were sung by the community ?some in French, English, Latin. German. while the Cantors intoned a verse in 24 different languages.

The most moving experience was going up to Brother Rogers (who is about 90) and holding his hand as I told him how I came to Taize and asking his blessing. Coming away, I likened the experience to being touched by Mother Theresa. Here is a man that is probably a saint???

a most wonderful way to cap off a vacation...I felt that my Guardian Angel led me here.after all, if I had decided to get off the freeway a minute later, I would never have happened upon this place.!!

Sunday Nov 7.

We decided to stop for breakfast after we had driven a few miles of back roads. Eventually we got to Paris and turned our car in. In the 3.5 weeks, we had driven 5,978 kilometers, which translates to 3,586 miles. I don't want to THINK about what the diesel fuel bill was!.
We stayed at the Hilton at the Paris Airport because we needed to checkin at 8am Monday Morning.
The flight back to Houston was 10 hours. When we picked up our luggage, a roving security guard with a snooping beagle came and squatted next to our luggage. My first thought was that my 150 year old shotgun still had a trace of powder residue, but we soon discovered that it was the bananas in my pocket that she detected.

Summary:
Needless to say we had a fantastic time with every day having very memorable events. We have driven in the following countries:
France, Germany, Switzerland, Italy, Liechenstein, Austria, Hungary, Slovakia, Poland, Czech Republic.

Downside...I could NOT find any restaurant in Slovakia who ever heard of Halupky!


Here is a list of our booty:


Switzerland
+Swiss cow herder's hat
+2 rocks from Alps for my international rock garden
+3 swiss yodel CDs
+1910 antique Swiss cow bell and belt

+bowl with American WW I biplane
+new steel cow bell

Austria
+St.Bernard stuffed dog
+Heidi towel
+Heidi souvenir cow bell
+cobblestone from Salzburg street for my international rock garden +4 Christmas ornaments

Vienna
+1850s Lefauceaux double barrel shotgun
+Austrian Mobil oil can
+1928 Jupiter 2 Austrian pencil sharpener
+marble mounted aluminum Lalique hood ornament 'Victoire'
+Soup bowl and plate from Russian train dinnerware
+porcelain coffee urn
+3 sterling silver food pushers
+150 year old sterling silver spoon
+cherry pitter

Valaska Bela
+Book of Slovakia
+set of 6 Valaska Bela crystal wine glasses
+set of 6 Valaska Bela crystal whiskey glass
+crystal vase
+crystal nut bowl +crystal pig
+ceramic vase and pot
+hand painted jars from Julius's daughter
+hand embroidered table scarf and pillow cover Anna's mother
+2 silver Slovak coins
+bottle of slivovitz
+bottle of Becherovka


Modra
+pair of candlesticks
+triple candle holder
+pig
+pair of egg cups
+3 ceramic decorated eggs
+2 ceramic Christmas ornaments
+4 Christmas ornaments
+2 crosses
+plate
+large vase with farmer plowing with horse


Sekule
+2 soup bowlsv
+2 plates
+3 small plates
+2 large plates
+3 egg cups with serving dish
+antique car bank
+5" garlic pot
+napkin holder
+small single bud vase
+2 cups with saucers
+2 novelty cups
+tea pot
+sugar bowl with top
+milk pitcher with top

Piestany
+2 silver soup spoons
+3 Slovak CDs

Taize,France
+3 candle holders with candles
+CD of music

Cluny, France
+wooden train letters
+bottle of wine

Misc
+3 sets of Air France stainless dinnerware
+2 demitase spoons
+salt and pepper shakers