Bob's Birthday Party
In April, Gail surprised me with a fantastic birthday party.
Somehow she managed to sneak into my address books and invite 120 of my family and friends.
I was most surprised when my brothers and sister and their spouses arrived on Saturday afternoon. We enjoyed a perfect afternoon on the deck and then we all attended Mass Sunday morning at Guardian Angel Catholic Church in Wallis. Also, DC and Patti, our dear friends from Austin joined us.
(Guardian Angel is one of the 'Painted Churches'.....built around 1910 by the Czech immigrants in the very ornate Gothic style.....very similar in style to the parrish church in Newtown, PA that we attended.)
Here is Walt and Lee, Lou and Mary, Dolores and Bob
Unfortunately, Paul and Fran could not make it down from Alaska.
In the evening, Gail took me to the Swinging Door to meet my siblings for a great BBQ dinner. Little did I realize that there would also be 112 of my friends there to greet me with the Lone Star Bluegrass Band.
Gail had two really neat cakes with great pictures....
Here I am talking to DC and Patti is setting up the cakes with Bill, who owns the airport next to Covey Trails...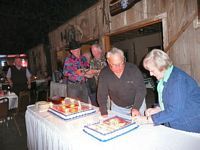 Here's a pic of Dolores, Bob and Mary
Here I am talking to Gail, with Walt and Lou in the background.....
Gail's son,"Corky", and grandchildren were there..
Here's a picture of Dustin.
There were personal friends of ours
There were friends from the Lone Star Packard Club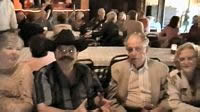 There were friends from the local Antique Auto Club
There were friends from Covey Trails
There were friends from IBM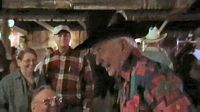 There were friends from Cast Theatrical, the local theater where I have performed.
There were friends from our Airstream Group
There were friends from our other camping group
There were former neighbors from where I lived in Friendswood and with whom Gail and I sailed around BVI a few years ago....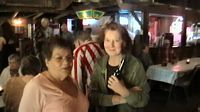 ..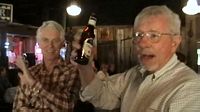 My aircraft mechanic was there along with the owner of the airport just east of Covey Trails...
Needless to say....it was a mind-blowing experience!...which could never be repeated.....
I am indebted to Gail for having put together such an extravaganza without my knowledge.
(Actually, I knew she was really stressed out for the previous week or so. But I thought it was because the man for whom she had worked for 22 years, as President of 4 corporations and Office Manager of office buildings and shopping centers ...was in town, wanting to review the books. Gail was having a difficult time getting the accountant to provide the data....so she was understandable stressed.)